KBzine: the original kitchen and bathroom industry e-news - since 2002
28th January 2021
We strongly recommend viewing KBzine full size in your web browser. Click our masthead above to visit our website version.
---
The American Hardwood Export Council to present four projects at 100% Design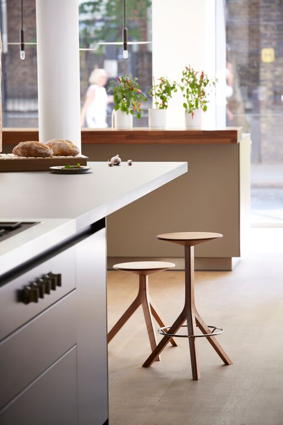 The American Hardwood Export Council is to present four projects at 100% Design, as part of the London Design Festival 2015.
The Invisible Store of Happiness - a celebration of wood and craftsmanship in the form of a three-metre high wooden sculpture made out of American maple and cherry, will be showcased alongside three pieces from The Wish List project that AHEC presented at the Victoria & Albert Museum during London Design Festival 2014. Getting Away From It All, A Stool for the Kitchen and Ve-sel will be on show as part of the shortlist for The Wood Awards 2015 in the product design category.
The Invisible Store of Happiness was shown at Clerkenwell Design Week 2015 and brought together two of the UK's brightest talents - furniture designer-maker Sebastian Cox (www.sebastiancox.co.uk) and sculptor Laura Ellen Bacon (www.lauraellenbacon.com) - who fused their ideas and skills to create the installation that was presented under the dramatic archway in front of the historic Museum of the Order of St John in London this past May.
The structure consists of a mighty steam bent frame that gives way to thinner, weave-able strips manipulated to twist and flow into a whirlpool of texture and shape.
Sebastian conceived the project and led by his growing passion for Life Cycle Assessment, took it to AHEC as a proposal. Sebastian is best known for making handmade furniture with sustainable materials from the UK's woodlands, but his passion for the progressive research AHEC is conducting into LCA led him to David Venables, European director of AHEC, having asked Laura Ellen Bacon, whose poetic willow sculptures he has always admired, to join him for the project.
"The legacy of this project is the deeper understanding we now have of these hardwoods," says David Venables. "Through this experiment we've gathered data that will play a key part in shaping the future of life cycle assessment in a world where you will have to explain, transparently, the impact of your materials. It's incredibly exciting that we have jumped the first hurdle in environmentally profiling any product or project by dissecting the impact of our material."
Laura says: "Having worked on this design entirely from the ground up with Sebastian, my learning curve has been sharp. I've learnt new textures in curvature; to think in a 'new' material and to feel its grain and plot its positioning for both aesthetics and structural purity lead us both into new dimensions."
Sebastian adds: "This project gave me the opportunity to really, truly connect with my material and test its limits. As well as those of my team, my machinery and myself. I'm not always able to challenge my material making furniture but the Invisible Store was so experimental I was able to test the American cherry and maple, find the limits of the timber and push them. With furniture, you design and make pieces without ever knowing where it's going to go. Working with Laura gave me an insight into designing something for a specific space."
The American maple and cherry have been crafted into an elliptical-shape frame that showcases fine craftsmanship and impeccable cabinetry on a grand scale with huge arcs of steam bent wood, hand jointed together in mostly glueless draw-bore mortice and tenon joints. Through complex machinery the components of this solid frame are effectively shredded into strips and made supple and weave-able from time spent soaking in the River Thames beside Sebastian's Woolwich workshop. These strips are boldly manipulated by hand, flowing and twisting into the space to create a whirlpool of texture and shape, all held within its mighty external frame.
Moving on to the other part of the exhibit, the Wish List was a collaborative project between some of the world's best-known design names and up-and-coming designers, brought together by AHEC and Benchmark Furniture to create a compelling installation that was exhibited at the Victoria & Albert Museum during the 2014 London Design Festival. Three of these pieces have now been shortlisted for The Wood Awards 2015.
Sir Terence Conran, co-founder of Benchmark, instigated the project when he wrote to his friends and asked: "What have you always wanted in your home, but have never been able to find?"
Such an open brief guarantees an extraordinary spread of design and the challenge was to produce each project in a single material: American hardwood.
Architect Alison Brooks wanted an object that she would not only own but also put into production. She commissioned a stool for her kitchen from London-based designer Felix de Pass that could work in a range of environments. "The stool," she says, "is always the most popular seat in the house. Stools offer a dynamic kind of seating. There's a temporary quality to sitting on a stool - you don't have to commit to sitting down. I've never been able to find a really clever, beautiful kitchen stool that is the right height for a kitchen counter."
She chose cherry wood, a timber she felt was under appreciated and which her mother collected when she was growing up in Canada. "Cherry has a tight grain with lots of character. The colour grows darker and richer over time to an incredible burnt umber colour," she adds.
The stool consists of a cherry seat and post that Felix steam-bent into three legs. With Benchmark's help, Felix laboured over how to attach the stainless-steel footrest, or 'crown', settling - eventually, on three discreet metal bars. Alison helped the designer refine the seat into a light disc that becomes sturdier where it joins the base.
For the 'Getting away from it all' project, Sir Terence Conran asked designer Sebastian Cox to create a 'cocoon-like desk' in red oak and cherry for his office - a place where he could work without distractions, with everything he needed to hand. "I like the idea of being cocooned away happily designing or writing in blissful peace," he says. "And it will save me going in to the greenhouse in my garden, which is currently my favourite place for quiet time." Why doesn't the design titan simply do it himself? "While I've had the occasional piece customised," he says, "I have never once had the opportunity to design something purely and selfishly for myself."
Regarding Sir Terence Conran's brief for a desk, Sebastian says: "It's a space Terence can work in without distractions, a cocoon-like desk with cabinetry around it, a space for undistracted creative thought." Yet building it from red oak, cherry and ash took more than a little creative thought, and considerable skill. The 2mm red oak strips Sebastian chose for the curved screens had to be soaked in a brook on the Benchmark property before they could become supple enough for weaving. Then he finished them with a whitener to lighten their appearance to suit the specifications.
For the cupboard roll-top, he joined solid pieces of wood mechanically, then built a drawer to conceal the mechanism. "This was the most advanced, intricate and challenging thing I had ever made," he reveals, "but how often do you get the chance to design something for someone who is so important in the industry?" For his part, Sir Terence Conran says: "I have been making furniture for 60 years, but I am still learning from Sebastian."
For the third project, Ve-sel, Zaha Hadid's wish was very open-ended, simply specifying 'tableware'. Gareth Neal approached the project by thinking about the fluid nature of Zaha's work but juxtaposing that with a functional element dynamic. From this, the water carafe idea emerged. He was invited to go to Zaha's office and working with her design team, using the company's modelling software to create the vessel; there he conceived the idea of extruding the form along one of its axes with a slit opening at the end that allowed the viewer to look into "a cathedral-like space".
Benchmark had to upgrade its CNC software to achieve the complicated form. Gareth constructed the vessels in two halves, which were expected to be identical but in fact were not quite, adding the sense of a 'maker's mark'. The process produced ridges that were analogous to those created by a potter's thumb. The pair agreed to keep one vessel natural, while the other was ebonised. Sean Sutcliffe says of the results: "I have been running my workshop for 32 years, and this is the most remarkable thing we have ever made." Gareth Neal adds:"I hope the pieces will embed the design with a sense of the handmade through the arm of a robot, questioning the viewer's perceptions of craft and the handmade".
Benchmark is a leading company of craftspeople and designers, founded 30 years ago by Terence Conran and Sean Sutcliffe. Based in West Berkshire on a converted farm, the team is now 50 strong in over 40,000 sq ft of workshops for timber milling, carpentry, veneering, spraying, specialist metalworking and upholstery, as well as design studio and furniture showroom. Benchmark works extensively on design solutions for hotels, restaurants, public buildings, offices and private residences.
www.benchmarkfurniture.com / www.americanhardwood.org
Visit the Invisible Store of Happiness at the stand L529 at 100% Design, 23rd - 26th September at London's Olympia.
18th September 2015
---