KBzine: the original kitchen and bathroom industry e-news - since 2002
28th January 2021
We strongly recommend viewing KBzine full size in your web browser. Click our masthead above to visit our website version.
---
Crossrail skills vacuum creating 'competence chasm' in other parts of UK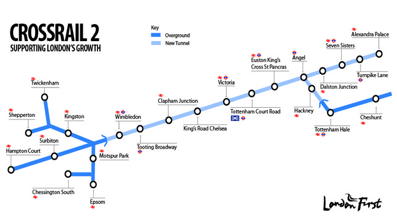 Crossrail's hunger for skilled workers has drawn in top talent from hundreds of miles away to take up engineering and construction jobs, adding to skills shortages in other parts of the UK, according to new analysis from specialist recruiter Randstad CPE.
Not only is Crossrail an international talent magnet, it is also exerts a potent force felt across the UK. More than a quarter (28.3%) of those starting Crossrail-connected work in the London area are originally from areas more than 30 miles away from the new railway line - in the analysis of over 40,000 individual construction and engineering placements across the UK, including more than 150 different Crossrail-related job-titles.
Of these workers, more than half (15.0% of the total) have taken up Crossrail jobs 50 miles from their home address at the time - while just under 1-in-20 Crossrail-capable workers (4.7%) have moved 100 miles or more.
On Crossrail itself, this represents 4,000 workers commuting or relocating more than 30 miles towards the London area, and 2,100 originally coming from over 50 miles away - out of the total of 14,000 estimated to have worked on Crossrail since the start of the project in May 2009.
Owen Goodhead, MD of Randstad Construction, Property & Engineering, comments: "Britain's construction and engineering skills gap has been a dilemma for decades. But now it is biting.
"The infrastructure challenges of the 21st century make this an urgent issue. Crossrail is just one major project, and the effect is felt sharply across the UK.
"Employers want the right person for the right job - absolutely the correct approach - but this is unleashing a spiral of competition. Skills shortages are here to stay for the foreseeable future, and candidates looking for construction and engineering jobs are benefitting. At the start of the project in 2009, the draw of Crossrail was accentuated by the recession, and today it is one of the brightest symbols of recovery in the UK jobs market.
"The downside is in local areas at the other end of this skills vacuum. Crossrail will revolutionise the daily commute for thousands. But the people creating this engineering marvel have their own stories of relocation and long commutes - and their home towns will tell the story of a skills exodus."
Since Crossrail's 2009 ground-breaking, workers have been recruited an average of 30.1 miles away from a new Crossrail-related job in the London area, peaking at an average distance of 36.9 miles in 2011.
So far in 2015 the distance between candidates and new Crossrail-related jobs in the London area now averages 24.5 miles. However, even in 2015, six years after the initial surge of Crossrail recruitment, 4.1% of those taking up such positions around London still had home addresses more than 100 miles from their new place of work.
Since 2009, the effective annual earnings of those working in Crossrail-related job titles has averaged £23,952. For the same wide range of Crossrail-related job titles outside of the London area, effective annual earnings have averaged £22,763.
This means Crossrail workers at all levels have effectively earned a bonus of £1,189 per year by moving to work on the project - accumulating to £10,701 if workers stay around London for the duration of the project (2009-2018).
This 'London weighting' is persisting. So far in 2015 the average effective salary across all Crossrail-competent employees in London is £24,021 - while elsewhere the average is £22,833 meaning a 2015 'bonus' of £1,188.
However it is in more specialist roles where skills shortages are transferring the most earnings power to workers. Tunnelling engineers working on site in the London area pick up average earnings of £25,000, site manager jobs pay upwards of £30,000, while experienced project managers can see salaries in excess of £50,000.
Owen Goodhead continues: "Filling quantity surveyor jobs and project manager jobs can be a challenge for employers right across the UK. But London is the white-hot core - where the same job titles command an even greater premium. Especially for high-profile projects, employers are stumping up the cash to get the right skills.
"Crossrail will be winding down within the next two years, and ambitious skilled people may start to look to other regions. But for a decade one railway will have defined a huge portion of the jobs market."
Construction and engineering salaries in general have risen by 15% over the course of the last three years. This is the equivalent of an average 4.7% pay rise each year since 2012.
Across the construction and engineering workforce average annual pay now stands at £30,970 in 2015 - taking in all areas of work from specialist Formula 1 engineers to bricklayers and carpenters.
This represents a dramatic improvement. In 2012 average earnings stood at £26,969, then rising by just 1.6% between 2012 and 2013.
As Crossrail enters its final phases, with services starting from 2018, the wider draw of the London area maintains its allure for construction and engineering workers.
By 2018 London will have dominated demand for Crossrail-relevant skills for almost a decade; almost half (48%) of all Crossrail-competent placements handled by Randstad CPE since 2009 have been to the London area. Only the remaining half (52%) took up jobs requiring the same skills in all other parts of the UK.
Yet while Crossrail itself is set for completion in 2018, this trend is now mirrored across the range of other construction and engineering jobs. Looking at engineering jobs and construction jobs unconnected to Crossrail, 38% of these workers found jobs in the London area over the last six years - or significantly more than a third.
Owen Goodhead concludes, "London and the South East are now powering the whole UK construction industry. Crossrail represents a particular crunch point for even scarcer skills - but the trend is now growing. Property prices around London provide a steady underpinning to returns from residential house building - while huge infrastructure projects like Crossrail, the Thames Tideway and soon HS2, all radiate out from the capital.
"But while all roads may lead to London, the rest of the UK still needs skilled engineers and construction workers. In a world where jobs are increasingly outnumbering the best candidates, employers need to up their game to find the right people for the job.
"As a country we need more people to start from scratch in construction and engineering - which means training. In particular, apprenticeships can be a huge part of the solution, invigorating the workforce with a fresh cohort of skilled people, and widening access to the very best jobs. This year we've launched the Randstad Williams Engineering Academy, giving school leavers work experience, mentorship and a chance to join the Williams Formula One team. But in every field, this country needs not just more Formula One engineers, but more rail engineers, electricians, quantity surveyors, project managers and bricklayers to come through these routes.
"In the meantime savvy job seekers should look for ways to train up, earn more - and fill the growing competence chasm across every nation, city and region of the UK. That may mean following the glittering allure of the capital, or branching out for adventure and a greater variety of life in other towns and cities."
16th October 2015
---