KBzine: the original kitchen and bathroom industry e-news - since 2002
28th January 2021
We strongly recommend viewing KBzine full size in your web browser. Click our masthead above to visit our website version.
---
Industry stalwart, Ron Blount of Blanco, reflects on his career as he bows out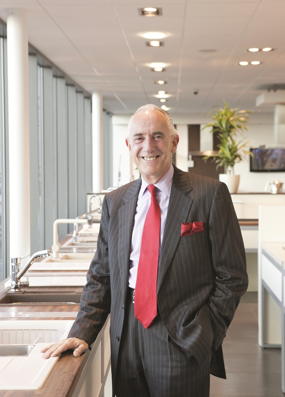 "The decision to step down in January 2016 was taken three years ago; three years to plan and implement succession... Not only my own successor but also other key roles within the company with a view to evolution, not revolution.
Blanco UK is a strong company with sales forging ahead year on year and a committed team serving great customers. Simon Hart, my successor, has the enviable role of leading the company - with the full support of the UK team and our colleagues in Germany - to ever greater heights as the years unfold.
I've known Simon for over 25 years. He is personable, a strategic thinker, a team player who has held executive roles in the kitchen industry and is highly respected for his achievements. He is a perfect fit for the UK team and for our German shareholders and I'm delighted that he accepted the position knowing that he brings fresh ideas, process improvements, and a desire for ever greater customer service through his ability, drive and determination.
Highlights
There are too many high points to remember... In the early days, it was realigning the portfolio to focus on core product... Cajoling, nurturing, encouraging, whilst saving and cost cutting; difficult decisions which I hope were delivered with compassion.
Once the `compass was re-set', we all took great satisfaction from the business flourishing to today's level of revenues and profitability. In 2009, the business was moved from its original cramped premises in Cricklewood, North London, to a new location and purpose-built home between St Albans and Radlett in Hertfordshire. At last, the business was `tailored' into premises it deserved, with spacious facilities, a showroom and a logistics centre to be proud of. Whilst the timing to move in 2007 was ambitious - with the meltdown of 2008, one could say suicidal - the decision to move has paid off handsomely and is a permanent legacy for the company's future development.
Major achievements
Judging peoples' strengths, harnessing and focusing on that strength - no one is an 'only'. When a janitor at Cape Canaveral was asked what he did, he replied: "I'm part of a team to put a man on the moon". Another one was the value we obtained for our worktop business when we sold to CFA - a reflection on how a humble business unit can be elevated into a valued and valuable asset. Others include the brand being specified in most new-build prestigious developments, loyalty and longevity of customers and employees, and being able to `payback' the shareholders `in spades' for their financial support during those early days.
The future
As the Blanco brand matures, retaining its status as a premier brand through innovation in design, material and service, our market share will steadily increase with particular focus amongst this specialist sector. There is an increasing number of first or second time consumers who will wish to purchase their kitchen in component form - bits from here, bits from there, internet for the appliances, worktops from the local supplier. Fred's a plumber and dad's good at woodwork. Hopefully, this saves a lot of money! I doubt it but everyone has to learn. There comes a point in our lives whether due to past experience, lifestyle, income or simply maturity, we appreciate and value the benefit of single source responsibility. Here's the kitchen specialist!
We have a budget and now we want a champion (it's that kitchen specialist again). Someone, hopefully someone recommended, who we can trust. Trust with our money. Trust to supply and fit `the dream'. Trust to supply, fit and test the appliances. Trust to deal with any problems and trust to support what has been supplied for months to come.
The law of common sense says we can't have all the above and at the cheapest price. There will always be a role for the specialist to fulfil the increasing demand for single source responsibility.
Kitchen retail has evolved by adapting to consumer's expectations. The market is dependent on house moves, availability of credit, security, confidence, Mark Carney, general election, interest rates, VAT, tax rates and the weather. However, as at today, we are witnessing a consumer recovery which is taking root and blossoming.
It is a compliment that I should be asked for my prediction when the great and the good - the economists - were scratching their heads in amazement at the speed of the downturn are now `scratching' at the speed of the upturn. Where is Nostradamus on this one?
The UK, however, will always be seen as an irresistible market. Is there a government white paper stating that we must own our own home and then improve it and keep moving and improving? Whether there is or not, we do. Fully fitted kitchens, bedrooms and bathrooms will not stop growing until there is not a blade of grass to be seen on our urban island - then it might slow a little.
European furniture manufacturers are currently looking at the UK with envy and see only opportunity. Then they reflect on their market share and despair. Hence, these furniture guys with big budgets will open wholly-owned factory showrooms with the 100% confidence that there will be no switch selling from the leads generated by their PR and advertising. Furthermore, unless there's another `world' recession they will have the will and resources to ride future regional setbacks.
A premium brand such as Blanco has to be carefully managed. The specialist will always be our number one focus and where we direct our energies. However, we currently trade in all channels but only with customers with whom there is mutual respect for each other's strategy and the partnership serves the long term interest of both parties.
We're an innovator, aware of and setting market trends. It was 10 years ago for example that Blanco pioneered square undermount bowls. Inevitably, every manufacturer has since jumped on this bandwagon.
We will continue, as we have every year, to launch award-winning designs. Our German R & D team together with our own designers will continue to ensure that we remain at the forefront - supplying the highest quality, underpinned with an exceptional level of service... Never the cheapest but always the best in each price segment.
I can only see the future as positive at Blanco."
Ron's strengths and personality traits are perceived as being:
- Motivational
- Leads by example
- Plays to each team members strengths, takes a deep breath over weaknesses. After all, we're all flawed - including him!
- Plays with a straight bat
- Thrives on a fast tempo
- Insists on bad news NOW! Good news can wait.
- Never give him half a story
- Encourages criticism
- Humorous
- Wordsmith
- Respected
- Decisive and expects others who are empowered to be decisive also
- Diplomat
- Intolerant of fools
- Encourages long-term relationships
- Gentleman with old school values
- Door is always open
- Highly numerate
- Loyal to employees and expects loyalty back
- Willing to think laterally about problems
- Does not like surprises in business
- Inspirational
- Favourite saying - "We don't take ourselves too seriously but we take the business very seriously"
T: 01923 635 200
W: www.blanco.co.uk
20th November 2015
---