KBzine: the original kitchen and bathroom industry e-news - since 2002
28th January 2021
We strongly recommend viewing KBzine full size in your web browser. Click our masthead above to visit our website version.
---
Zip extends its popular commercial Hydrotap collection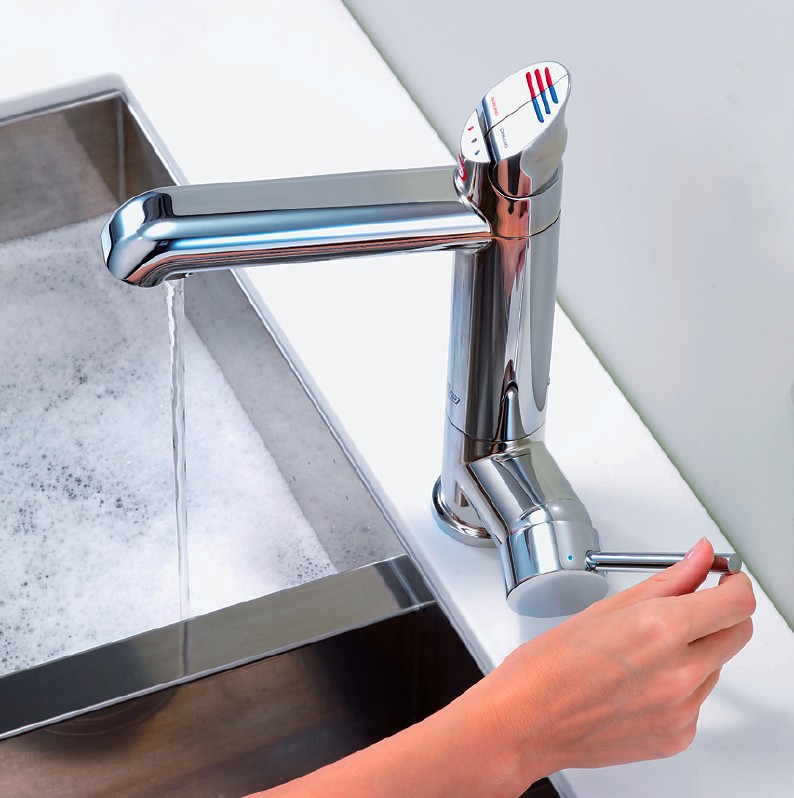 Zip, the globally renowned manufacturer of instant boiling water systems, has increased its best-selling range of HydroTaps for commercial applications, with the addition of four range extensions and a broader choice of tap finishes for 2011.
Since revolutionising the provision of drinks in the UK workplace, when the current HydroTap was launched in 2005, Zip has continued to invest in the development of its time, energy and cost saving HydroTap system for the delivery of instant boiling and chilled filtered water to meet the changing needs of the commercial market.
Focusing on the requirements of small, medium and large office environments, as well as higher demand and industrial locations, the latest additions to Zip's HydroTap range are designed to provide a solution for virtually any site requirement.
Extensions to the range include new HydroTap All-In-One models - for where space is at a premium in kitchens - the HydroTap Plus range, which is designed to cope with high demand locations, as well as a robust Industrial HydroTap for heavy duty applications and a vandal-resistant Institutional HydroTap that is particularly suitable for use in more specialised environments, such as prisons.
Retaining all the key design features of the iconic HydroTap, the All-In-One range delivers instant boiling and chilled filtered drinking water plus hot, cold or mixed warm water for sink use. Water delivery is via a longer reach, 120o swivel spout which allows greater siting flexibility, including the option of serving 2 sinks. Boiling and chilled water control levers remain at the top of the tap, whilst below and to one side a separate lever controls the delivery and flow of hot, cold or mixed warm water.
Two variants of the All-In-One are now available. The vented tap version is designed to work purely in conjunction with a single mains cold water supply, blending it with stored boiling water to deliver hot water for sink use. In contrast, the non-vented tap version is designed for connection to a mains cold water supply as well as a local hot water system.
As well as offering full HydroTap functionality, the All-In-One models also incorporate a number of energy saving features. These include a low light sleep mode, which when in use monitors local lighting levels and automatically activates the sleep mode whenever local lighting is turned off. This allows the temperature of stored boiling water to gradually reduce to 65oC, at which it is maintained. Upon further draw off, or when local lighting is switched back on, the boiling cycle resumes.
This is in addition to an 'Inactivity' Sleep Mode, which when used puts the unit into sleep mode when boiling water has not been drawn off for two hours. This also reduces the water temperature down to 65oC, with the boiling cycle resuming at the next draw off. Additional operating efficiencies can also be gained from use of the HydroTap's 24/7 timer function, which enables the entire system to be switched off 'out of hours' whilst ensuring it is fully operational for the first draw off of the day.
Throughout the boiling process, in order to minimise energy usage, HydroTap's 'Power Pulse' technology constantly monitors and adjusts the power necessary to achieve the set temperature.
Further extending the capabilities of the HydroTap commercial range, the Plus range has been introduced to provide instant boiling and chilled filtered water for larger offices and higher demand locations.
Using new higher rated elements, the Plus models offer faster boiling water recovery rates in comparison to standard commercial HydroTaps. For example, the 150 cups per hour capability is now extended to 200 cups per hour. The chilled water capability of these units has also been enhanced whereby cold filtered water continues to flow freely from the tap even during periods of high usage when the product's 'chilled glasses per hour' capacity has been exceeded.
Designed specifically for the needs of industrial and institutional environments, such as factory sites, distribution depots, institutions and prisons, there are two new heavy duty HydroTap models.
Featuring top-touch buttons instead of the familiar levers found on other commercial HydroTaps, the new industrial models have a sturdy, simplified design to withstand repeated heavy usage and are suitable for sink or font mounting. Designed for use in industrial and heavy commercial locations all models deliver boiling and chilled filtered water and are available in the same capacities as the HydroTap Plus range - with the 2.3kW version delivering 160 cups of boiling water per hour and the 2.8kW version up to 200 cups.
Joining the top-touch models, Zip's new Institutional HydroTaps have been designed with vandal resistance in mind. They feature side-touch buttons and a robust construction that ensures the tap cannot be removed from its base, making it a particularly suitable solution for prison environments and other locations where inmate safety and vandal resistance are important considerations. These new HydroTap systems are already in use in a number of secure Australian facilities having been designed to meet their specific requirements.
Completing the introductions for 2011, Zip has also added three new finishes to the HydroTap range.
Gold Plated, Brushed Chrome and Black Chrome colour ways have been introduced in addition to the popular Bright Chrome finish, which is available as standard. Increasingly selected by architects and designers for new-build and refurbishment projects, the new finishes immediately offer specifiers a much broader choice across the HydroTap product range.
T: 0845 6024533
W: www.zipheaters.co.uk
21st January 2011
---