KBzine: the original kitchen and bathroom industry e-news - since 2002
28th January 2021
We strongly recommend viewing KBzine full size in your web browser. Click our masthead above to visit our website version.
---
2016 Trends in the Home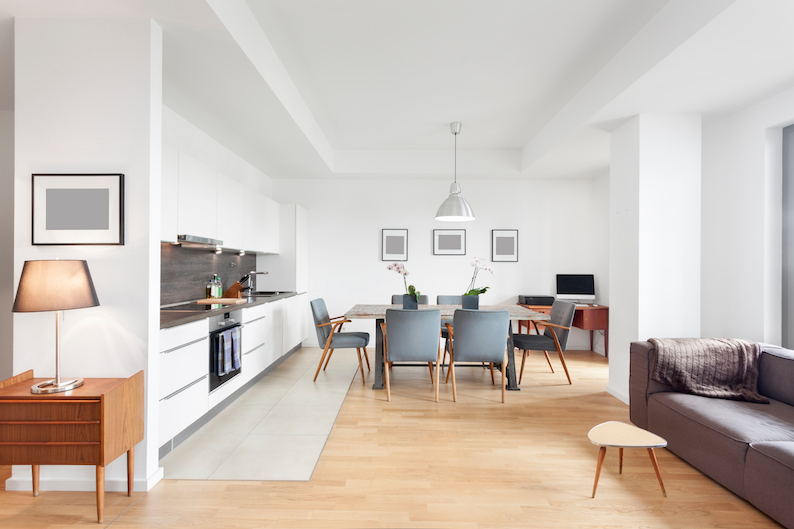 Mira Showers brought together a panel of experts in to discuss the top trends that will appear in 2016 and how they can be implemented in the home. The panel consisted of Mira Showers' industrial design director Simon Browning, Sally Nettleton and Sarah Shepherd from TrendPulse, digital expert Will Brocklebank, interior designer Richard Randall and Heloisa Righetto from WGSN.
Here is the summary of the top trends to look out for in 2016, as seen by the panel.
* Blurring of boundaries in the home; the home is no longer formed of self-contained rooms
Richard Randall: "It is about bringing the outside in and creating a flow from the living room to the garden to make the room feel larger and brighter."
Trend Pulse: "No one wants to be enclosed in one space; they want light and space in their rooms"
Simon Browning: "The consumer wants to break down the boundaries between the different rooms in their home. Bathrooms design is becoming an extension of the living space."
Richard Randall: "The consumer is looking at their house as a whole, rather than individual rooms."
Heloisa Righetto: "The bathroom has expanded into a decorative space and is being treated the same way as the living room. The consumer can now include rugs and living room accessories. The bathroom is shifting from a functional space to a beautiful and spacious area, it is personalised to the consumer rather than being generic."
TrendPulse: "The bathroom is now a place where you want to spend time rather than it being a necessity in the home. Taps, tiles, finishes are key in the development of the bathroom space."
Simon Browning: "The bath is becoming decoupled from the bathroom and is now being seen in bedrooms with the two spaces now connected."
* Curation by Craft: It is being used to make existing design items more unique and eclectic
TrendPulse: "Craft is being reinvented. Young designers are using traditional techniques and ideas to manipulate new materials.
"Craft is exciting and modern, it isn't home-spun. You understand it emotionally when you look at it."
Simon Browning: "The softness, authenticity and honesty of the materials as well as the look and feeling that they give you is what creates the desire to want the product."
Will Brocklebank: "The consumer takes ideas from spas that use craft and foliage to give the sense of calm and they want to recreate that."
* Texture and Natural Finishes: Using more natural fabrics and textures to re-create the look and finish through other substrates. This feel is very much in versus that of 'sheen' and clinical minimalism look in the kitchen
TrendPulse: "Global craft is a 2016 buzz word with the use of wood and textiles rather than the sheen and plastic look which is used in the kitchen.
"Material developments mean you can have products in the bathroom that you previously would not be able to as they are now waterproof and hardwearing. It is no longer a scary place for delicate items."
Heloisa Righetto: "Texture and natural materials that create texture will be key in the development of the bathroom."
Richard Randall: "Plant life within the room and spa-like bathrooms with technology is assisting the consumer to create the look is going to be big in 2016."
Simon Browning "The future of materials is coming through. It is a softer form of minimalism."
* Grey is the new Taupe & Brass will be big: Warm finishes against pastel and neutral base colours will be prevalent
The prominent colours for 2016 will be gold, copper and brass.
Brass metals will be the key choice to use as a finish. Metallic is still key but shifting slightly.
While soft colours, pastels and pinks are important they are not baby or candy pink.
Monochrome with pops of blue coming through and dark colours will be used in the house and while this is not necessarily right for bathroom it will be an important trend. The bathroom will consist of more greys and concrete finishes.
* Adaptable design: Products and technology features which enable consumers to adjust the mood of their home; flexibility is key in maximising usage and space
TrendPulse: "Products need to be adaptable for the bathroom. Small and portable accessories are important within this space."
Simon Browning: "Bathrooms are now adaptive spaces which can change depending on the mood and personality of the consumer. People like to be in control and have options; they can change the light, temperature and water pressure in the bathroom.
"Technology it is up to the individual. It can be personalised to the individual."
Will Brocklebank: "Lights that change colour to create ambiance and an immersive feel."
* Quantified Lifestyles: The 'Connected Home' is predicted to feature heavily here with constant access to data at our fingertips enabling consumers to make their own choices on everything from wellbeing to eco, cost saving, maintaining control when not at home and general lifestyle and ambience
From a consumer point of view technology is changing. It is not just technology lovers that want it; all consumers want the newest most up to date products.
Consumer like the balance between future technology and products that are accessible to everyone.
Consumers like interactive apps which show you what a product will look in their home. They also want products that do more for you. For example a toilet that 'cleans' you.
Will Brocklebank: "Staying in touch with your home when you are not there via apps to check security, energy efficiently and pets. The consumer is now more aware of the availability of technology in the home. There is a refinement of the use of tech in different rooms."
Simon Browning: "The shower is more sophisticated than the bath with new settings and technology attached to it; or example the different spray and eco settings..."
TrendPulse: Technology connecting the consumer to their home. For example, being able to set the temperature of your shower with an app on your phone while you are commuting home."
* Storytelling in the Home: It is no longer for show; in 2016 consumers will use a design narrative to showcase their personality and life
Consumers are treating bathrooms from a design perspective. They are more confidence with their choices and are designing their home the way they want and do not want to be the same as everyone else.
There is a global influence with us looking at rest of the world for inspiration. Moroccan style tiles for example with lots of travel influence. Certain destinations are not just about one look; different rooms can have a different take on trends through accessories.
Trends need to become functional. They need to be able to fit into your everyday life.
A house is a huge investment. While it is good to be on trend, it also needs to be easy to change up.
TrendPulse: "The home is starting to follow trends from the catwalk, creating new exciting different environments."
* Inspiring Retail: Retailers like John Lewis will lead the surge in inspiring consumers on how to create their own personalised looks in the home
TrendPulse: "There is a gap in the market with companies helping people to design their home; for example explaining how technology works and what products are available, what they can do and how they can improve your home...
"The consumer wants bespoke items. They also don't want technology in the home just for the sake of it; it needs to be beautiful and practical at the same time."
Simon Browning: "Consumers are more design conscious than ever and they want to build stories with their home. Their choice of product is connected to the story behind the product."
Will Brocklebank: "This theme links back to the theme of craft because people don't want to buy big branded products they like individual items.
T: 0844 571 5000
W: www.mirashowers.co.uk
3rd June 2016
---