KBzine: the original kitchen and bathroom industry e-news - since 2002
28th January 2021
We strongly recommend viewing KBzine full size in your web browser. Click our masthead above to visit our website version.
---
Soapbox: don't use Brexit as an excuse to raise prices - and remember - prompt payment is the lifeblood of a small business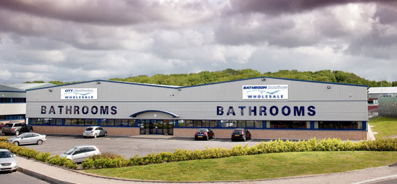 By Mark Errington, sales & marketing director, City Distribution
City Distribution, based in Blackpool, has been servicing the North of England for 29 years. We take orders up to 4:45pm delivering the following day and even man our sales office on probably our customers' busiest day, Saturday, to deal with product enquiries and process orders for Monday delivery - arguably making a rod for our own back but today's retailer need every tool in the box to secure that all important sale.
Distributors are expected to deliver yesterday, accurately and at the right price. These are demands, that over time, we have succumbed to, ensuring we stay ahead of the game or at least one of the front runners. We dropped charging customers restocking charges for cancelled or incorrectly placed orders or just because our customer's customer changed their mind. Of course there is an associated cost but we believe, it's a price worth paying.
In the last couple of weeks, emails have been sent out by many manufacturers and distributors imposing what appears to be, a benchmark Brexit increase of 10%. At the same time all of our customers received our email in which we make a commitment not to impose a Brexit increase for the remainder of 2016, choosing to shore up any deficit ourselves.
This has been widely and very positively received, judging by the number of very complimentary replies thanking us for our support in these unprecedented times. Yes - again this will cost us dearly but we believe that the economy will carry on and exchange rates will recover over the next six months (fingers and toes crossed).
We buy as many products from Europe and Asia as most distributors but sometimes you just have to step up to the plate and take a stance to support retailers because they are up against Internet, the economy and Brexit. I'm a Brexitere in case you were wondering, which is not necessarily a reflection of all within our company.
I would urge distributors to consider taking a similar standpoint. Retailers are our core lifeblood and we have to support them just as the Bank of England is likely to support the economy, reducing interest rates perhaps to 0% at some stage to encourage spending in an effort to keep the economy moving. We, likewise, must keep our own customers moving.
Some would accuse us of being naive but I assure you this was a calculated risk and not a decision taken likely. We like to think that we have earned loyalty over the years, supporting our customers. Don't get me wrong there's no pleasing everybody and we, like everybody make mistakes but bend over backwards to correct those. The majority of our customers are a joy to do business with and there are those we have to pander to, but fortunately there are only a few that we refuse to deal with on the grounds that they assume that - in addition to our superlative service - we owe them a living, that we should act as a second bank allowing them to pay when they feel like it or when they next need something.
As a result and by choice, over the last few years we have let a number of customers fall by the wayside at the expense of their custom. Like them we have a business to run, a living to make and mouths to feed - and equally, if not more importantly, so do our employees - which is why they must also be looked after, as they have made our business what it is today by actually caring.
With 76 years between us in this industry, Kevin Smith and I recognise that customer expectations are at their very highest, but to maintain a strong position in the industry we cannot afford to become complacent. There are some very accomplished distributors out there for whom we have the utmost respect - a feeling we believe to be mutual - just as there are many good retailers.
To remain successful through the tougher times both distributor and retailers alike have to take a good look at themselves and make sure that they are ticking all the boxes. Kevin and I have always advocated that our suppliers are just as important as our customers because without both we have no business.
Civility and respect costs nothing: "Treat others how you would want to be treated yourself" and try to understand and appreciate each other's obstacles because if you do you are more likely to succeed in business and in life generally
T: 01253 603990
W: www.citydistribution.co.uk
22nd July 2016
---