Have you seen the video that's gone viral on social media, of the OaSense shower that switches itself off when whoever's in the shower, moves out from underneath?
Forgive me if this type of gadget is old hat (I've never come across one before) but what a great idea! I'd always thought that if I wanted to really stop wasting shower water I had to manually turn off the tap while lathering or shampooing and then turn it on again to rinse - bad enough with a mixer, but a real pain if you're struggling to get the temperature right using two taps. The video shows how well it all works. And it's not just water (about 50% of it) that's saved... because the shampoo, conditioner or shower gel you might be using, isn't being constantly blasted with water, you'll save product too... and of course less product used means less strain on your household bills and less damage caused to the environment.
OaSense has a button for easily switching between 'sense' and 'standard' modes to cater for all the household's showering needs and it operates on four AA batteries that switch the unit to 'standard' when they're expiring (after about a year). This means replacing batteries will never be an emergency task - your shower will always work, one way or another!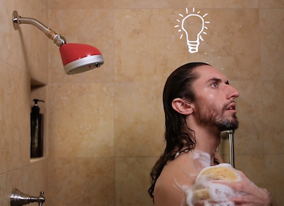 It's often said that the best ideas come to us in the shower and I think the same can be said for Californian Evan Schneider, who, while showering in 2015 and musing on how to beat the drought, realised that a large proportion of shower time is spent doing things that don't require running water, like shampooing and lathering.
Since then, he's designed, tested, and refined this idea into a product that he's trying to launch through a Kickstarter campaign. The campaign started well but sadly didn't meet target and that's when YOO posted a modified version of the video which notched up 250,000 views in the first 24 hours and has moved on to almost 1 million. You can see it at: www.facebook.com/yooDesignStudio/videos/10154087720116044/
Let me know what you think...
Yours,