On Sunday, a record 40,000 dedicated souls (or should that be so many thousand soles?) pounded the streets of England's vibrant capital city in the 2017 London Marathon. Many were elite runners for whom this type of effort is a way of life but tens of thousands of them saw it as a life challenge and a way of raising money for charity. One even carried a tumble dryer on his back...
I never fail to be moved by their efforts as I watch the race and the atmosphere is absolutely incredible. If you're one of those that took part, I salute you. I'm hoping that many of next year's runners will have an added reason to feel pleased with themselves, by wearing running shoes that are also helping the environment.
The equivalent of a truckful of plastics ends up in our oceans every minute. It gets eaten by the fish, which some of us then eat (which no doubt helps us succumb to some of the diseases and disabilities for which the Marathon runners are raising money). Far better to use this waste for something good then...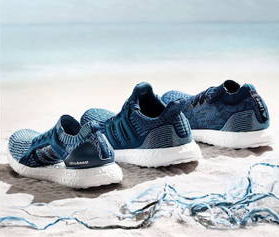 I've written before in this column about Vacs from the Sea - a (sadly, limited) range of vacuum cleaners, made by Electrolux, from recycled plastics found floating in our oceans. Now, Adidas is launching a new range of running shoes made from this floating, plastic debris. Its Ultra Boost X Parley shoes are created with yarn made in collaboration with Parley for the Oceans: it includes reclaimed and recycled ocean waste and some 11 million plastic bottles have been used to manufacture one million shoes that are said to wrap the foot in adaptive support and ultra-light comfort.
The heel and sock liners are also made of recycled materials - as are the laces. This is a great initiative & I'm hoping that some of next year's Marathon successes will be identified as wearing these running shoes, to help them really catch on amongst the masses.
Yours,