KBzine: the original kitchen and bathroom industry e-news - since 2002
28th January 2021
We strongly recommend viewing KBzine full size in your web browser. Click our masthead above to visit our website version.
---
Utopia champions British design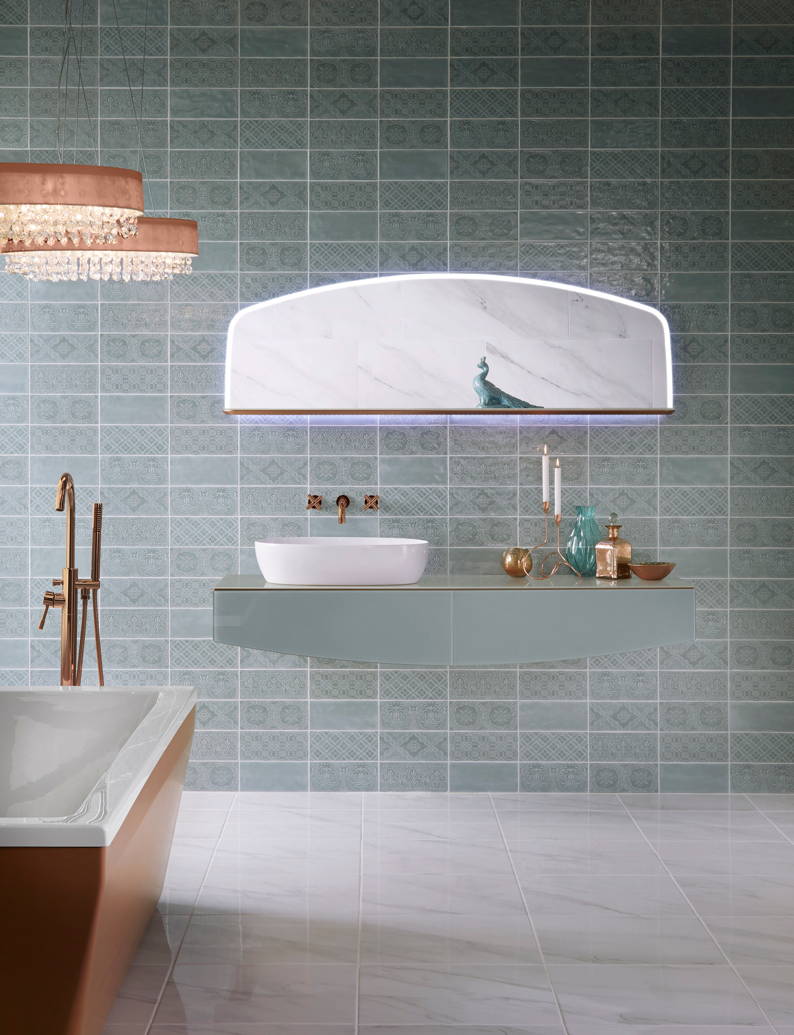 In a strategic move to expand its share of the growing modular sector of the bathroom furniture market, Utopia Bathrooms is launching a groundbreaking collection of three new contemporary modular ranges.
Targeting the top end of the market, Utopia is deliberately competing against European brands to prove inspired British design can not only match but surpass the continental offering.
As Beth Boulton, Utopia's marketing director, comments: "The industry has experienced phenomenal growth in modular furniture but, for a variety of reasons, UK design has fallen behind and now we are fighting back. Through Lustre, Star and Opula, our three new ranges, we are offering an unbeatable combination of genuine British design and manufacture using premium quality materials and offering unrivalled levels of customer service."
To create the new modular offering, Richard Shore, Utopia's head of design, has pushed the boundaries of design, both in terms of concept and also by exploring new and exciting materials. Glass, metal and luxurious solid surface all feature heavily in Lustre, Star and Opula, tapping into current trends and also anticipating future market direction.
Traditionally associated with pioneering the fitted furniture sector of the market, Utopia has had significant success with previous modular offerings but is now seeking to broaden the appeal of its product range as well as strengthening its offering in existing showrooms. Beth Boulton comments: "We aim to wow our customers with the unique Utopia combination of design, quality and service, and we are confident that our new ranges will achieve this. We are already well known for quality and are determined to lead the field in terms of design, too. It's really very exciting to be launching these three new ranges which encapsulate brilliant design, on trend colours and materials, and British manufacturing at its best, whilst still offering a competitive edge."
The launch is backed by an integrated marketing campaign with a focus on digital to generate consumer interest and drive demand into Utopia's 600+ specialist showrooms.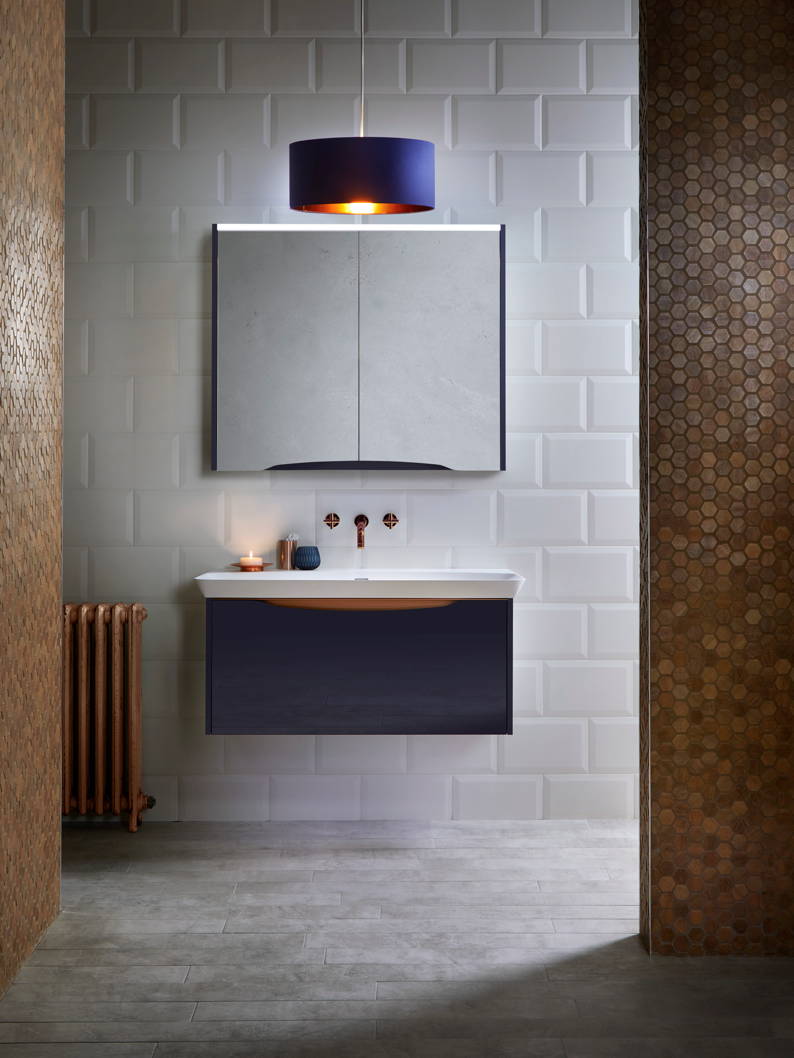 Lustre - a feast for the senses...
"See, touch, feel, hear... Lustre engages all the senses with its powerful visual impact, beautiful silky smooth surfaces and fabulous colour combinations." Richard Shore, head of design, Utopia Bathrooms.
A complete sensory experience was the vision of Richard Shore, Utopia Bathrooms' head of design, when he designed the new Lustre range of modular furniture. Powerful sculptural design to delight the eye, beautiful tactile materials to touch and enjoy, mood lighting to create atmosphere and accentuate design features, and a quality Bluetooth sound system were all vital elements of the brief.
Key to the design of Lustre is the fusion of textures, colours and materials. Lustre delights in the dramatic juxtaposition of its chosen elements.
The single drawer washbasin unit in 600, 800 and 1000mm widths has a beautiful reflective front in Everest White, Sea Green, Powder Grey or Indigo glass. This toughened 4mm glass has a feature, recessed handle in either Copper or Nickel and a choice of Coralux or glass basin. The white Coralux basin has a generous bowl with a simple slotted overflow and a sweeping tap platform. It can be teamed with any colour combination and deck or wall mounted taps. The stunning formed glass basin is available in either Sea Green or Powder Grey to match the glass fronts in the same contemporary colours. This graceful basin has a central tap hole and integral overflow and is the perfect vessel to showcase the lovely iridescent qualities of glass.
The deep drawer offers 30cm high storage with smooth white solid surface drawer compartments for cosmetics, toiletries and cleaning materials. Soft touch hinges add a quality feel and each internal tray is removable for cleaning. The centre section has a sliding cover with a raised tray to create a concealed 'secret' storage area underneath. Opening the soft close drawer activates the integrated LED light strip.
The co-ordinating mirror cabinet has double sided, laminated mirror glass doors with the same shaped handle detailing at the bottom, designed to reflect the handle area of the washbasin below. Reflection is further enhanced by the sophisticated hinge design which allows the doors to open to a full 165 degrees.
At 850mm in height, the unit is slightly taller than conventional wall cabinets to increase the internal storage capacity. There are two toughened glass shelves higher up so that taller items such as electric toothbrushes can be positioned on the lower level adjacent to the discreetly placed shaver socket.
The cabinet features two integrated lighting systems - atmospheric mood lighting in the handle section illuminating the basin below and a second overhead light to illuminate the user and cabinet interior. A Bluetooth integrated sound system delivers impressive sound quality.
A 400mm tall mirror cabinet is available with a co-ordinating Copper or Nickel handle accent. It has four toughened glass shelves, which are arranged to accommodate taller items at the base, along with an internal mirror back. It is illuminated by an internal, full height LED strip, activated on opening the door, and mood lighting built into the base of the unit.
To complete the Lustre collection there is a co-ordinating WC unit designed to suit any WC pan and frame or flushing system with a glass top and sides and a colour matched fascia.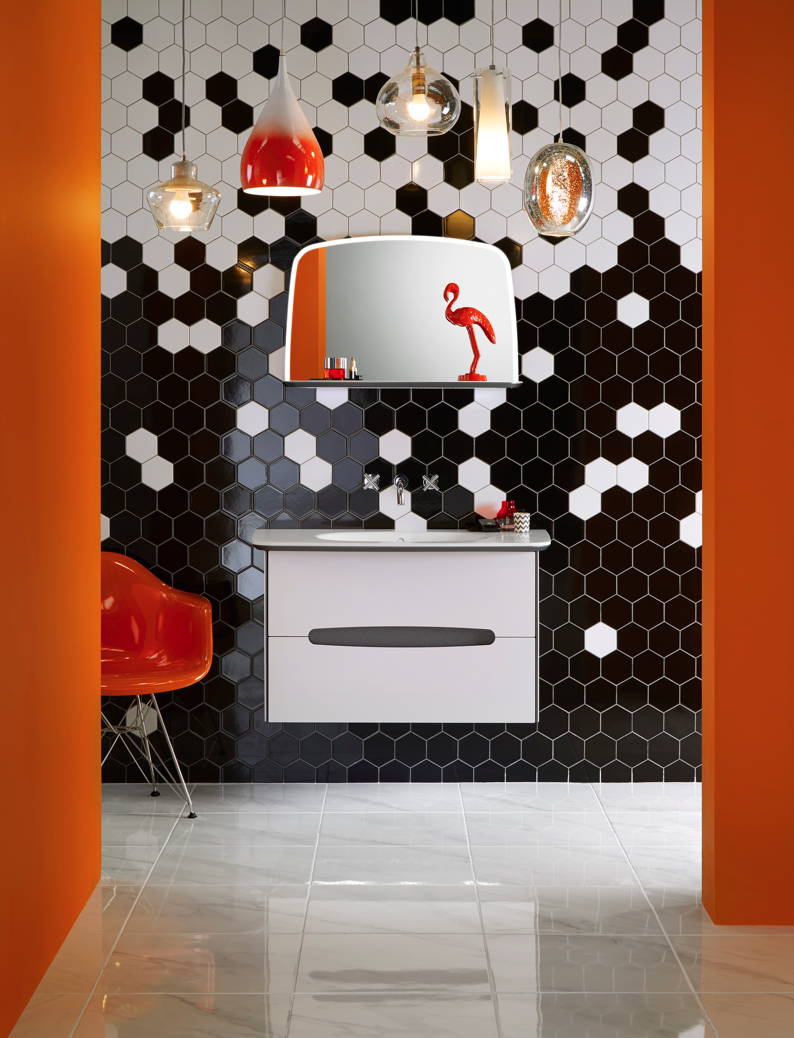 Star - simplicity meets sophistication...
"Aesthetically pleasing curves, tactile Coralux solid surface and dramatic bursts of accent colour make Star a show-stopper in any bathroom." Richard Shore.
With Star, Richard Shore was aiming to embrace the visual beauty that comes from simplicity. To that simplicity, he has added notes of retro eclecticism to create a beautiful collection with just a subtle hint of 70s' curves.
It is in luxurious Coralux solid surface that Richard has found the perfect material for Star. As pleasing to the touch as it is to the eye, versatile Coralux has allowed the creation of a fabulous basin with a soft, organic shape and slim profile. The generous overhang has a chamfered edge with an underside in the chosen accent colour which gives the illusion of the basin floating above the cabinet.
The double drawer unit is clad in tactile Coralux 3mm solid surface with flashes of colour exposed at the edges and also in the handle inset. The three striking colour flashes offered are Copper, Nickel and Indigo, chosen for their dramatic contrast in terms of both vibrancy and texture with the flat white of the solid surface. The scalloped inset for the handle section is designed for both ergonomic comfort and to echo the retro feel.
Available in 800 and 1000mm widths, the washbasin unit has mood lighting built underneath. The top drawer has three sections for organising small accessories and delicate items while the deep bottom drawer has high sided runners to contain taller items.
The gently curved shape of the washbasin unit is carried through to the simple 820mm illuminated mirror which has a floating Coralux shelf and feature detail underneath to co-ordinate with the chosen colour flash. The simplicity of design conceals a wealth of features such as LED lighting, demister and integrated Bluetooth sound speakers.
Complementing the washbasin unit and offering the essential concealed storage space that a modular bathroom demands is a 400mm tall unit with a quirky twist in that the storage is built into the reverse of the opening door. Clad in matching Coralux with colour co-ordinating handle, the tall unit has a full height mirror on the front and also on the inside back of the unit. The storage section comprises four white shelves with toughened glass fronts against a background of the chosen colour. Available in left and right hand configurations, the unit has atmospheric mood lighting built in the underneath.
A matching 600mm WC unit designed for use with wall hung or back-to-wall pans and for any frame or flushing system completes the range. The sides and top are also clad in Coralux and the fascia matches the accent colour.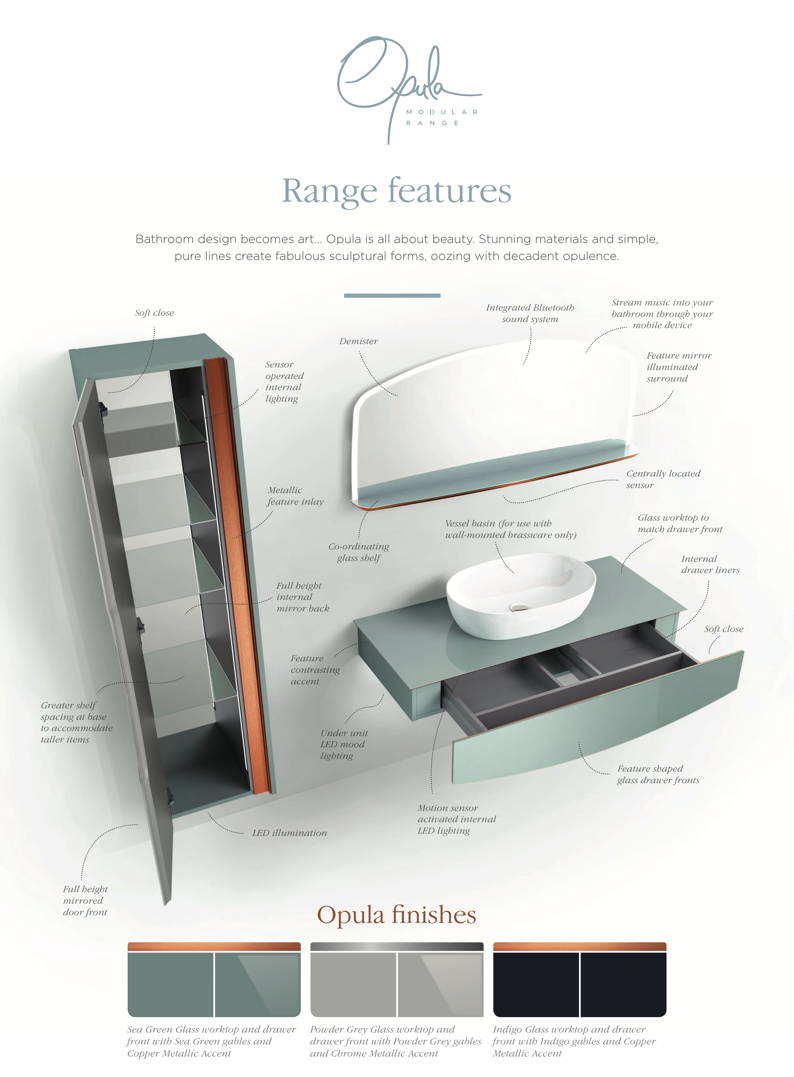 Opula - a triumph of form and function (top pic)
"Opula is all about using the most beautiful materials and simple, pure lines to create fabulous sculptural forms. Anything that might spoil its perfect effect is discreetly hidden." Richard Shore.
Representing the pinnacle of Utopia Bathrooms' design skills, the new Opula range of modular furniture is a triumph of form and function in that the 'function' element is entirely invisible to the eye.
In designing Opula, Richard Shore has chosen glass as his preferred medium to capture not only the amazing depth of colour but also its reflective properties that lift and transform the unit. Opula takes its name from the opulence of the materials used from luxurious glass to the beautifully elegant ceramic vessel basin.
Designed to look as if it is defying gravity and hanging in the air, the Opula washbasin unit is available in four formats - 800 and 1200mm single drawer and basin, 1600mm twin drawer and single basin, and 160cm twin drawer with twin basins. The worktop and fascia are made from 4mm toughened glass in three contemporary colours with either Copper or Nickel highlights. Sea Green and Indigo Glass are teamed with colour matched sides and Copper highlights, whilst Powder Grey Glass also has colour matched sides but is teamed with Nickel highlights.
The drawer fronts are designed to look as if they are a seamless continuation of the worktop with a tight fitting, chamfered joint in the accent colour. The drawer interior is illuminated by integrated lighting on opening and is divided into three sections for the easy organisation of personal accessories and toiletries. There is also additional mood lighting built into the underside of the base.
The generously proportioned sit-on basin features the latest thin-edged ceramic design to complete the overall effect. To complement the washbasin unit, there is a shaped illuminated mirror in 800, 1200 and 1600mm widths with a coloured glass floating shelf and feature accent below to emulate the contoured shape and colour co-ordination of the washbasin unit below. The outer edge of the mirror is illuminated by LED lighting which creates a frosted border. This spreads out on to the wall forming a halo of light and also shines down on to the basin and taps below. Despite the extreme simplicity of its appearance, the mirror has a sensor activated demister and lighting plus a sophisticated integrated Bluetooth sound system.
A 400mm wide tall unit provides invaluable extra storage with four internal toughened glass shelves positioned against a mirror back. Available with a mirrored front, the cabinet has a full height, integrated LED strip activated by the door opening as well as mood lighting built into the base.
A complementary WC unit designed for use with either wall hung and back-to-wall pans and for use with any frame or flushing system is also available. It is framed in matching glass with a co-ordinating fascia.
T: 01902 406402
W: www.utopiagroup.com
2nd June 2017
---