Welcome to our first post-Summer-break issue of KBzine. If you managed to get away or simply take some time off, I hope your batteries have been recharged too. Such a lot seems to have happened since we've been away but sadly, very little of it in our country has involved consistent warm weather and sunshine! I mustn't complain though, since what's currently happening around the Caribbean and south east United States makes our wet Summer seem something of a blessing.
Like most of the rest of the world, our thoughts are with everyone affected.
I have it on good authority that we're going to suffer a drought in England next year and my daughter keeps nagging me to install a second water butt. You may recall me saying in my last leader that I'd attended a festival that had run out of water. Many of us shared bottled water for drinking and one enterprising chap found a way of enabling the hot and sticky to clean up, as my picture shows.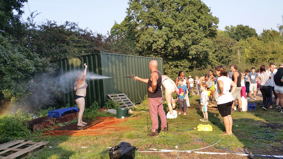 He'd give people a quick douse and then a minute to use the soap supplied, before spraying them down. It used minimal water but I don't want to have to live like that so if you have a garden but don't yet have a water butt, it might be time to get one!
That wasn't me in the pic by the way...
Closer to home I've been receiving updates on our industry conferences and I'm delighted that Sir Clive Woodward has been secured as keynote speaker for next month's KBSA annual gathering. The former England International and British & Irish Lion took England from sixth in the world to the number one ranked team, winning every trophy an England team can win. Then, as director of sport with the British Olympic Association, he helped deliver Team GB's most successful Olympic Games in the modern era. That he'll be sharing his expertise and motivational secrets with delegates, bodes well for both the conference and the future growth of this industry itself. I'm expecting great things in the future!
Yours,