KBzine: the original kitchen and bathroom industry e-news - since 2002
28th January 2021
We strongly recommend viewing KBzine full size in your web browser. Click our masthead above to visit our website version.
---
Market growth in integrated MDAs expected to continue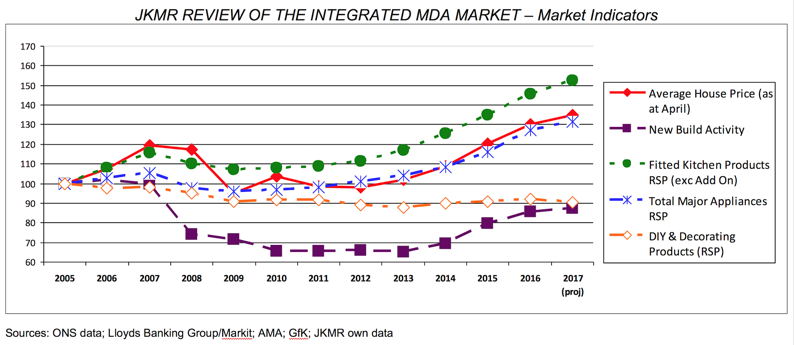 A new report from industry analyst JKMR highlights how integrated major domestic appliances sales growth is continuing to outperform that of the overall fitted kitchen market.
The Review of the UK Integrated MDA Market shows integrated MDA sales value will exceed £1.16Bn at end client buying price in 2017, up almost 8% on 2016. Value growth is almost twice the rate of volume growth, indicating that for the market as a whole typical client buying price have increased over the year, despite the price driven presence of internet buying mechanisms.
2017 will see integrated MDA volumes up 4.4%, almost twice the rise in new kitchen installations. The strength of high-end new build activity continues to drive through greater MDA activity, along with the strong top end in the retail sector, where multiple oven and refrigeration specification is adding to volume growth.
The new report provides long-term trend data on individual product sector volume and value, and analyses the changing share of different retail channels, highlighting factors that drive the shifting pattern between 'winners' and 'losers'. By looking at the MDA sector both in itself and in the context of the overall fitted kitchen market, the report provides clients with a wider under-standing of the external factors that have enabled MDA sales value to have grown over 30% since 2014.
With sales of ever more sophisticated models in the studio sector, ongoing shift in the mass market towards integrated MDAs as standard, and the outlook for high end new build still positive, analysis shows the outlook for integrated MDAs remains good even in the light of a likely overall fitted kitchen market slowdown from 2018.
JOHN - ILLUSTRATION NEEDS TO GO HERE
As an example of the depth into which the report delves, the above table illustrates how new build activity dramatically slumped in 2008, while Average House Price also fell steeply. These declines impacted on the fitted kitchen products market, the total MDA market (i.e. free-standing and built-in) and DIY & Decorating Products.
Average House Price saw an uneven performance 2009-12 before beginning a more sustained recovery in 2013; new build activity had to wait until 2014 for improvement.
The DIY & Decorating Products market begun to see a very modest recovery in 2014 but improvement was only minor and the sector will see sales fall once more in 2017.
By contrast the total fitted kitchen products market and MDA market were seeing steady growth from 2010 - with growth rates correlating to average house price inflation levels since 2012.
Both will see growth continue for 2017, with market value now well above 2005 levels. This indicates how important the kitchen is to householders; but also underlines the fact these markets, unlike the wider DIY product market, have a greater dependence on higher earning owner-occupiers.
The specialist sector has a larger share of the dishwasher/refrigeration sector than of oven/hobs, since its clients are the most likely (in the retail market) to specify a full range of MDAs. Its share of oven/hob volumes rose from 13% in '06 to 17% in '10 but since then growth has been more modest, with the sector unable to increase kitchen installations sufficiently to drive through major MDA growth. Direct Contract lost share when new build activity slumped. It has recently regained share but its presence is still low compared to ten years ago. It too has a greater share of dishwasher/refrigeration than oven/hob, with new build more likely than multiple retail sales to include a full set of MDAs.
The multiples have the greatest integrated MDA volume share due to their dominance of kitchen sales but since 2013 have lost volume share at an accelerated rate, due to their inability (save Howden) to massively increase kitchen sales and the competition from internet and electrical retailers. Other kitchen retail operations have increased their presence in the last four years, reflecting growth by Wren which seeks to offer 'studio style' installations. Internet/electrical retailers have a strong presence in the market but volume share is affected by the fact that such channels do not tend to sell a full set of appliances in a single sale, and it remains vulnerable to developments amid mainstream kitchen retail operations seeking to capture the full client budget.
The Review of the UK Integrated MDA Market is published by JKMR, the only B2B research company to specialise in the UK fitted kitchen products market. For further details on this report, priced to be available to as wide a range of clients as possible, contact Jayne on:
T: 07742 180855
1st December 2017
---