One of the many things I've always loved about this industry is the commitment of various individuals or teams of employees to give up their time to raise funds for charity. Generally though, these are individual company efforts, rather than industry-wide.
As you can imagine I was excited to learn this morning that Vado has announced the return of the Vado Rally for June 2018.
Competing to raise money for the Rainy Day Trust and Variety charities, members of our industry who are so inclined will once again have the opportunity to rally through some of Europe's greatest cities and scenery as they raise funds for charity. I can imagine that - as there is in terms of vying to be the first, or the best, when it comes to introducing new products and technology - there will be a great deal of competition, but in terms of bonding, it will be fantastic. I daresay too, that as happens on the golf course, new work partnerships will be established and business is likely to be done...
The Rally has been a major success since its launch in 2016, with a staggering £65,000 raised after 37 cars successfully covered 1,300 miles through eight countries in just four days. Our picture shows the 2016 winners, Chandlers Building Supplies Lewes branch manager Stuart Campbell and timber trading director Trevor Mudd, who raised over £1,500 in their Mercedes E230, which they bought for a mere £147.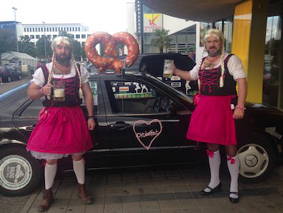 They completed challenges along the way and ensured that they and their car were dressed and decorated in a different theme each day - something teams in this upcoming rally will also be encouraged to do. To add to their points and fundraising total, Trevor also completed a 220 metre bungee jump off the Verzasca Dam in Switzerland whilst dressed as the pair are here, as a Fearless Fraulein!
It will be interesting to see this year's fancy dress ideas as drivers from builders' merchants to retailers, manufacturers and buying groups, will be challenged to trek through Copenhagen, Namur, Amsterdam, Lüneburg and Malmo in a road-legal car worth under £500. Will you be one of them? The closing date for entries is 31st January. Email [email protected] for details.
Yours,