KBzine: the original kitchen and bathroom industry e-news - since 2002
28th January 2021
We strongly recommend viewing KBzine full size in your web browser. Click our masthead above to visit our website version.
---
Cosentino's biggest stand ever featured exclusive VIP lounge to showcase new launches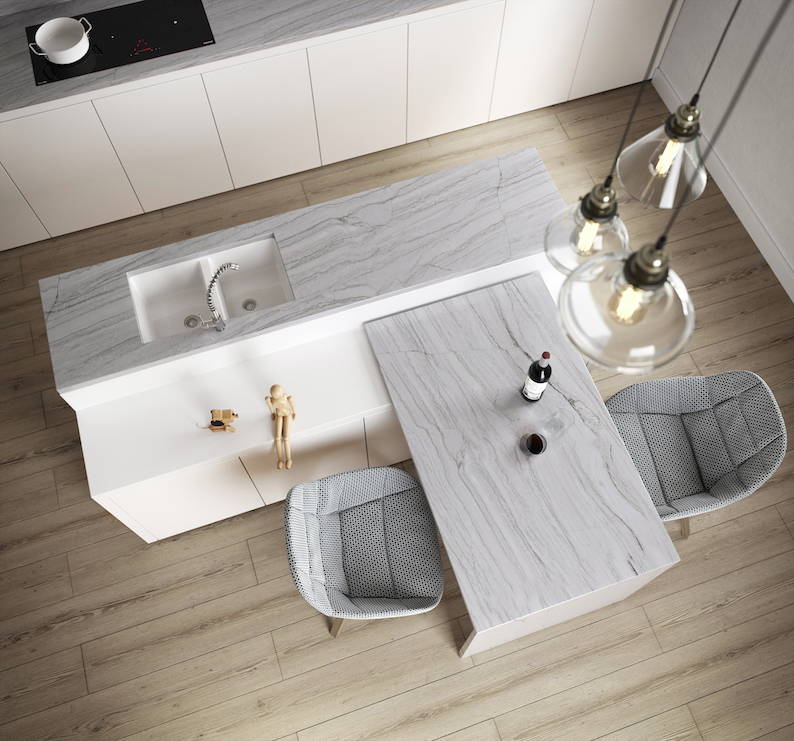 Cosentino Group, renowned globally for its production and distribution of innovative surfaces for architecture and design, hosted its biggest stand to date at KBB Birmingham, with an impressive 170sq.m set including an exclusive VIP lounge.
The company launched striking new shades for its Silestone Eternal quartz surface range as well as showcasing exotic new quartzites for its Sensa by Cosentino protected natural stone collection.
Visitors were also treated to a preview of new concrete inspired designs for the Spanish multinational's Silestone quartz and versatile Dekton ultra-compact surfaces.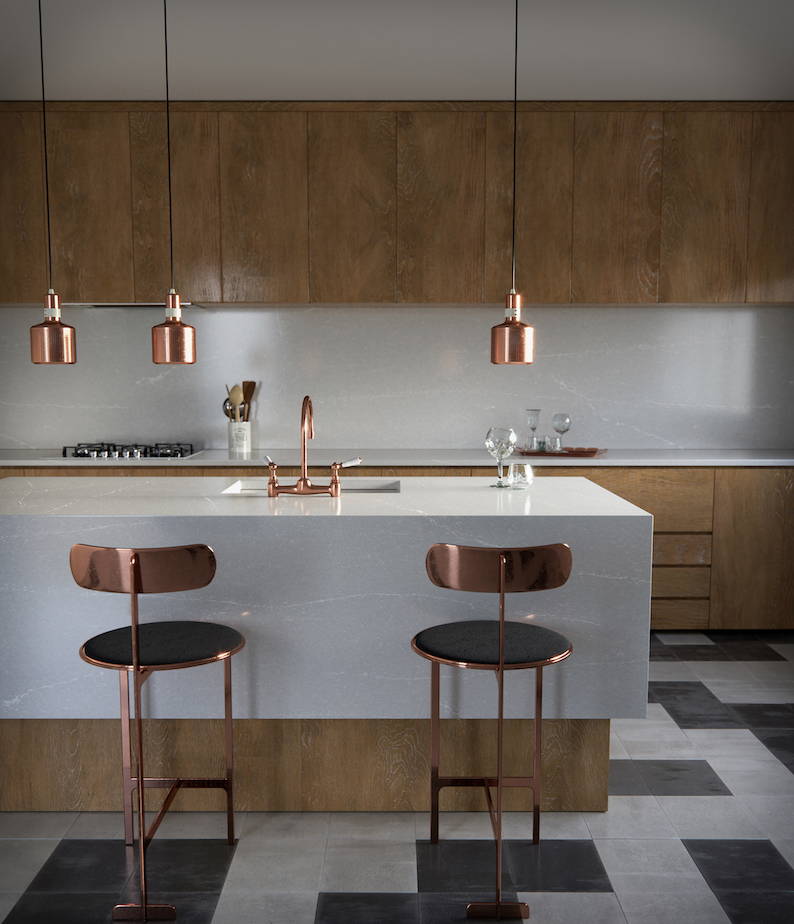 New Silestone eternal colours (www.silestone.co.uk)
Expanding on the success of the existing Silestone Eternal range were five shades available exclusively from the brand's Elite studio partners throughout 2018. Inspired by natural materials, Classic Calacatta, Desert Silver, Bianco Calacatta, Eternal Marfil and Eternal Emperador offer a modern, reinvented take on some of the most sought-after marbles and stones, all featuring the revolutionary N-Boost technology.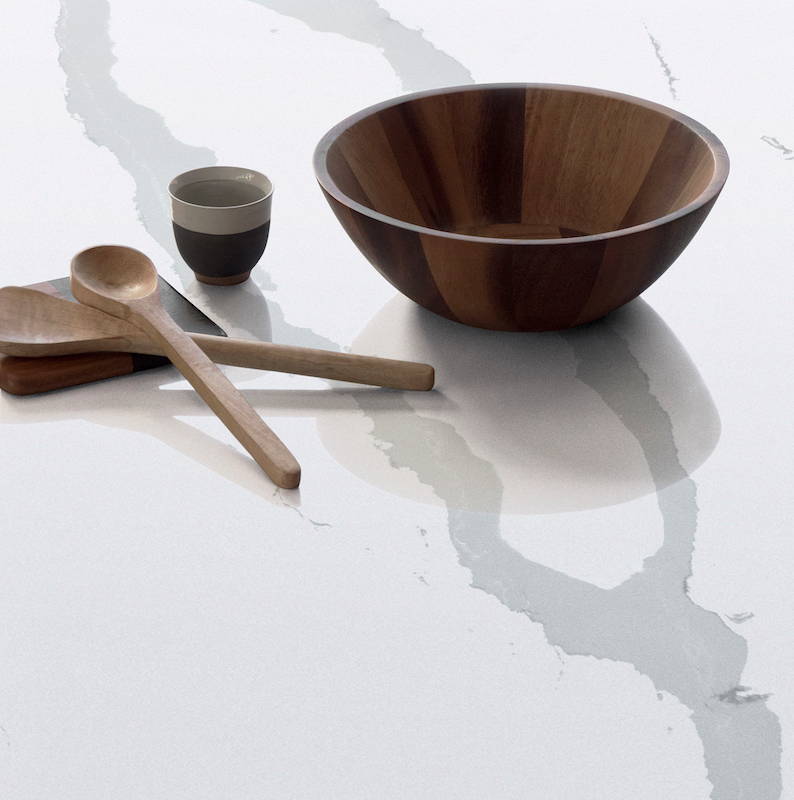 N-Boost technology modifies the surface of the material at a molecular level, enhancing its qualities and offering surfaces that are both highly practical and stunning. Increased water-resistant properties repel any kind of liquid, making them easy to clean and maintain. With N-Boost, the colour is intensified with an incredible polished finish boasting an extraordinary shine.
The existing superior qualities of Silestone remain intact with the presence of N-Boost. Made from over 90% natural quartz crystals, the Silestone Eternal collection offers a natural appearance, with veining and highlights running completely through the material, including the edges. The worksurfaces have a high resistance to scratches and stains, and benefit from a shade and consistency that is not found in natural stone.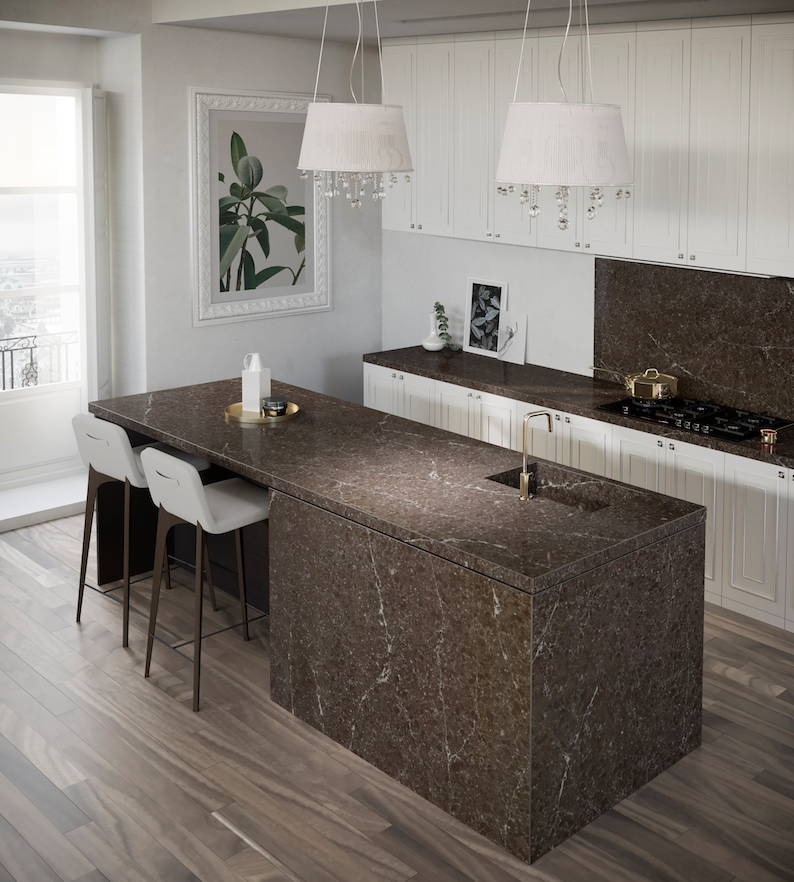 Offering an impressive 25-year warranty, it is the ideal surface for use in a wide variety of applications, including worksurfaces, flooring, splashbacks, wall cladding, shower trays, washbasins and custom-made bathroom components.
In greater detail, the new colours, which will be exclusive to Cosentino's Elite Studios throughout 2018,
are: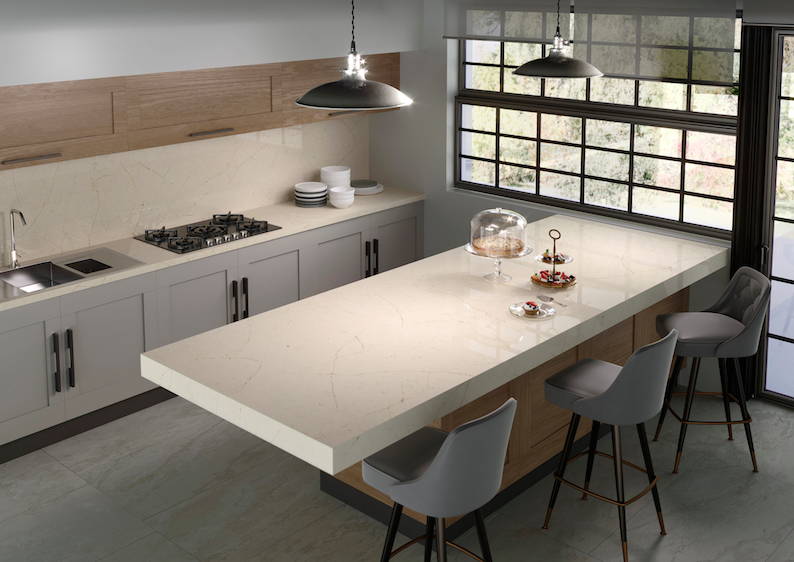 * Bianco Calacatta: The standout hue in the 2018 collection combines thick, electric veins with a soft grey background for drama and contrast, creating an instant focal point in any space.
* Classic Calacatta: Elegant and subtle, Classic Calacatta reinterprets coveted Calacatta marble. Its uniform grey veins stretch across the slab with a translucent appearance, evoking an authentic resemblance to real stone.
* Desert Silver: More monochromatic in its appearance, Desert Silver offers an icy aesthetic enhanced by fine, clear veining. Inspired by the timeless appeal of marble, it would complement any type of setting.
* Eternal Emperador: A warm, tobacco brown background contrasts against lighter streaks, embracing earthy tones reflective of a growing demand for moody, darker marbles. Here, tradition and elegance reinvents itself with a touch of sumptuousness for a bold statement.
* Eternal Marfil: Creamy, soft and minimalist, Eternal Marfil puts a unique spin on Crema Marfil marble to bring an organic serene aesthetic to the space.
Silestone is available in three thicknesses; 1.2cm, 2cm and 3cm and two slab formats; standard 304x138cm and jumbo 325x159cm for larger size projects offering fewer joins. Providing customers with a variety of looks inspired by natural stone, there is a choice of over 80 distinctive colours and three finishes; polished, volcano and suede.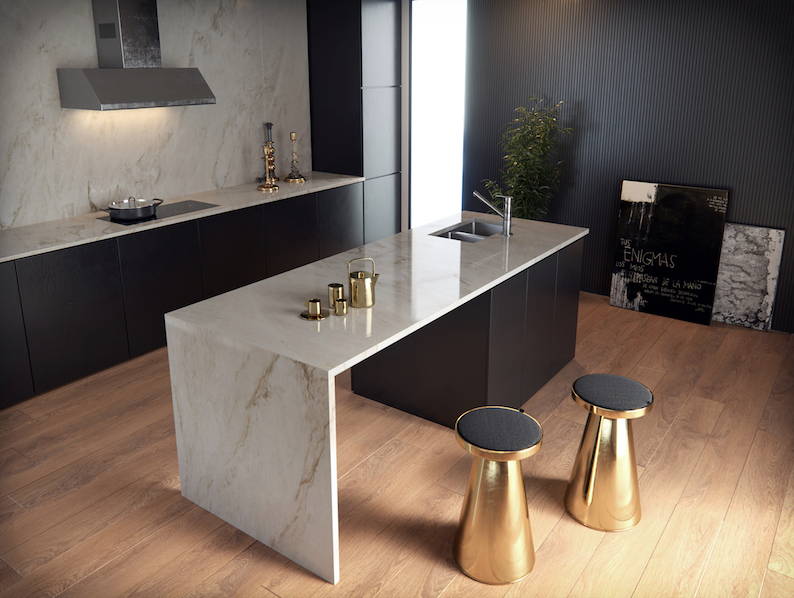 New Sensa by Cosentino colours (www.sensabycosentino.com)
Also showcasing at KBB were exotic new quartzites for the Sensa by Cosentino protected natural stone range, which feature the brand's exclusive stain protection. New for 2018, Taj Mahal (a soft cream ivory background with hints of warm brown veining) and White Macaubas (a soft palette of greys and whites, marked with thin linear veining that is reminiscent of classic marble) are stunning neutral shades with delicate veining, offering a highly-polished finish.
The two new colours join the Sensa by Cosentino Premium range and feature the exclusive Senguard NK which ensures improved stain protection, repelling liquids such as water and oil and protecting against acidic substances commonly found in household kitchens, with no need for special daily maintenance. The collection now offers customers both protected granite and quartzite surfaces, offering a wider choice and a selection of striking designs.
The two new surfaces are the first quartzites to join the Sensa by Cosentino range. Quartzite is a very hard metamorphic rock that is composed almost entirely of quartz and is the perfect alternative for those who are looking for a natural stone that is more durable and hardwearing than traditional marbles, whilst offering a similar look.
The new quartzite colours have been carefully chosen, taking into account their composition and resistance to stains once treated with the revolutionary Senguard NK stain protection that has been developed by the Cosentino research & development team for its natural stones. Both Taj Mahal and White Macaubas offer an excellent level of stain protection, including.
Sensa by Cosentino Protected Natural Stone surfaces all offer an impressive 15-year warranty and are available in thicknesses of 2cm and 3cm.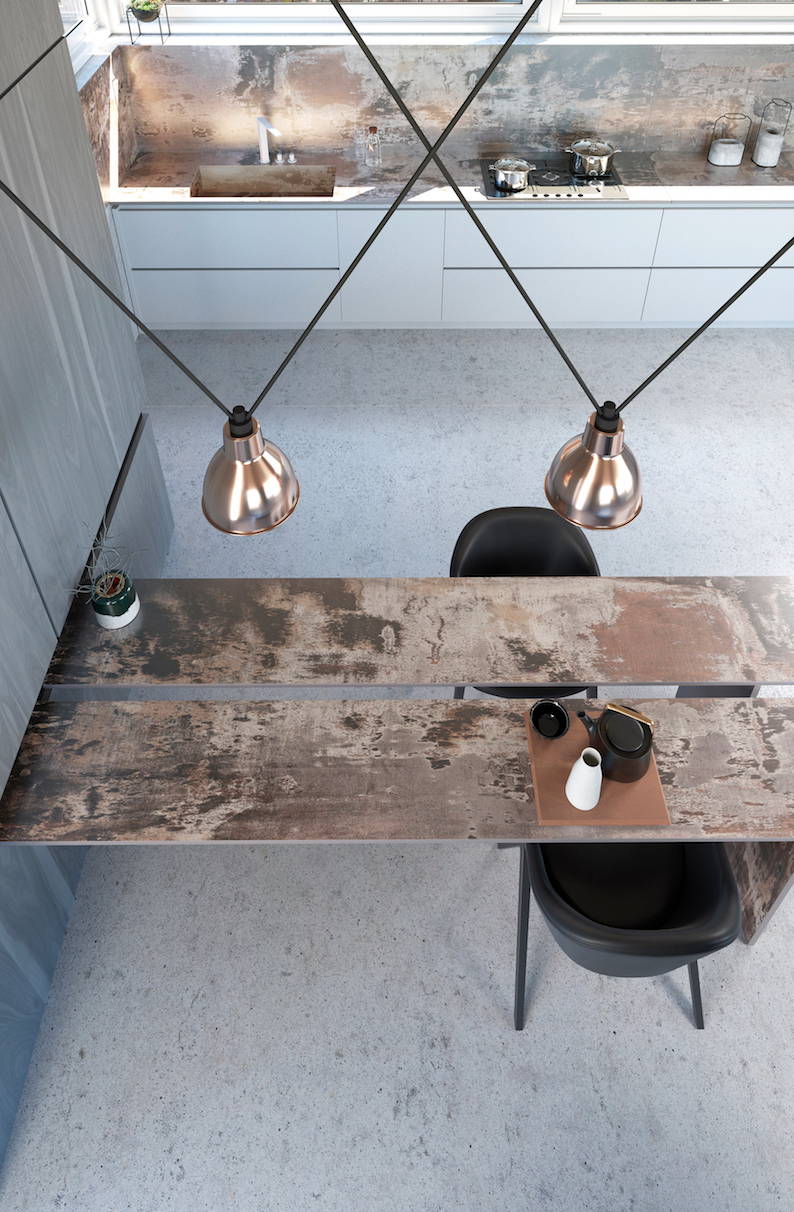 Latest colours: Dekton ultra-compact surfaces (www.dekton.co.uk)
Also on display were the latest colours from the brand's ultra-compact surface Dekton. Offering versatility and a wealth of applications, Dekton is created from a sophisticated blend of inorganic materials, using an innovative ultra-compaction process.
High resistance to UV rays, scratches, stains and thermal shock are just some of the excellent technical properties that define Dekton, making it a highly-coveted surface in the world of architecture and design.
Applications include internal and external surfacing; worktops, flooring, wall cladding, external facades and bespoke furniture, with a wide range of designs to choose from including those inspired by natural materials and the urban environment.
Dekton by Cosentino and Daniel Germani present the innovative new 'Industrial' collection
Cosentino Group also introduced the Industrial collection for its ultra-compact surface brand, Dekton, which launched officially The new collection marks the launch of three new colours in collaboration with architect and designer, Daniel Germani.
The Industrial collection is comprised of three new shades: Nilium (a subtle blend of silver and white, representing the beginning of the oxidation process), Radium (which represents a sheet of rusted, acid-washed steel and combines the warm expression of orangey brown tones with the coldness of blue and green hues) and Orix (which takes inspiration from eroded cement; an industrial appearance characterised as being steely, cold and broken and based on different tones of grey, blue and green), as well as the award-winning Dekton Trilium (a mixture of colours inspired by volcanic rock, with intense accents of black and grey, launched commercially in 2016). Nilium, Radium and Trilium feature irregular, organic patterns, giving a hybrid appearance taken from weather-worn and exotic natural stone.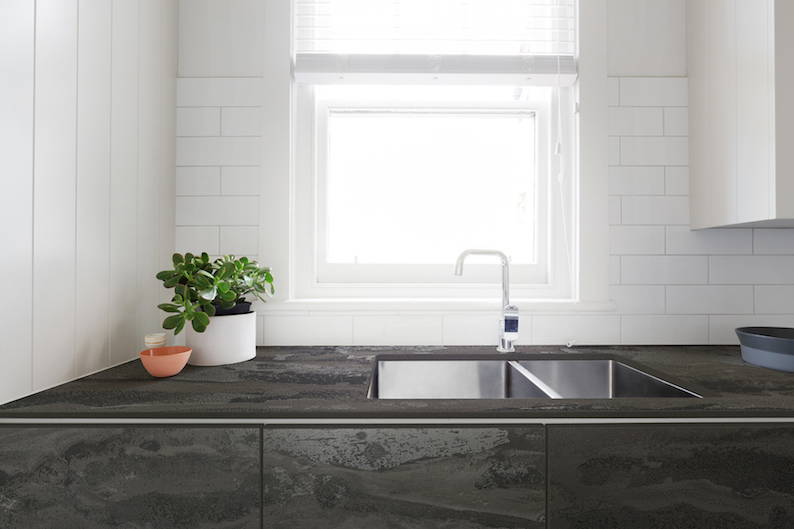 "The Dekton Industrial colour collection was created so as to contemplate the beauty of metals and cement at every stage of their life; it pays homage to the beautiful imperfections of the oxidation and degradation processes undergone by certain materials," says Daniel Germani, designer of the colour collection. "The incomparable technology of Dekton gave us the tools necessary to explore and design, and the result is a collection of colours that highlight the richness and depth of natural, organic processes."
As part of its commitment to sustainability, Cosentino allocated part of its R+D to the creation of products that are increasingly respectful to the environment. Dekton is a reflection of this sustainable policy as Cosentino carries out a series of measures to achieve true responsible production of the material.
Systems maintaining clean air in the factories, methods supporting energy efficiency, sustainable systems assisting the management and use of water, and the valuation of waste to achieve the zero emissions objective, all form part of the catalogue of sustainable actions carried out throughout the production of Dekton, and the other products manufactured by Cosentino.
Specifically, with regard to the valuation of waste and promoting a circular economic model, Cosentino incorporates excess materials from its own production processes into the creation of the diverse range of Dekton shades. Trilium and Radium, two of the colours in the Dekton Industrial colour collection, are a clear example of this as they are manufactured using up to 80% recycled materials.
Industrial was created to be the most relaxed yet complex collection of Dekton due to its urban character, a style that was predominant in the 80s, with the metropolitan movement towards loft studios displaying these designs. This dominant trend in construction, identifying fully with the constant growth and renovation of cities, re-awakens today to establish itself as a lasting style in the modern world of decoration and design. Under the premises of this trend, concrete and metal beams and bricks step into the limelight, becoming true protagonists.
Dekton Industrial presents a surface with a rough, strong, daring and expressive appearance, in which order and disorder complement each other perfectly. With Dekton Industrial, metallic, oxidised and cement tones from the past are brought back to life and improved thanks to Cosentino's innovation.
Dekton Industrial achieves a matte-gloss finish never before seen in these types of materials. The appearance of the new colours varies depending on the angle of the light on the surface, creating a rich and varied design.
Dekton's Industrial collection is the ideal material for use in large commercial and architectural projects thanks to its impressive appearance, and outstanding technical properties, which include UV, scratch, stain and heat resistance, along with production in large format slabs (up to 144cm x 320cm) and different thicknesses (20mm, 12mm and 8mm). These large format slabs allow for the creation of seamless surfaces and spaces without limits and joins, both in indoor and outdoor spaces. Dekton Industrial is also the ideal choice for domestic use for flooring, staircases, bathrooms, cladding and worksurfaces.
T: 01256 761229
www.dekton.co.uk / www.silestone.com / www.sensabycosentino.com / www.cosentino.com
16th March 2018
---