Welcome to the third and final part of our KBB 2018 show review, which we hope has given you a flavour of our visit and what we discovered as we wandered around the halls. While we don't have the visitor numbers yet, we reckon the event was a good one. All the exhibitors we spoke with during the show were pleased with the way things were going and the visitors we interacted with were all happy that they'd taken the time and trouble to attend.
Add to this the feedback we've received since - which has echoed the general positivity, and my view is that despite the weather, which for a time seemed hell-bent on ruining everything, this was a hugely successful event and one that bodes well for our industry over the coming months as well as for KBB 2020, which will take place from 1st - 4th March.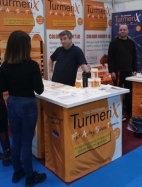 I've written a lot over the past three weeks about fabulous new products, innovation and lively stands but one that hasn't yet had a mention, is pictured here. If there was an award for marketing enterprise or perhaps making the most out of a tenuous link, it would have to go to Turmerix (www.facebook.com/turmerixnsw).
I'd gone past the stand a couple of times, wondering initially if its burnt orange hue was a new kitchen colour or something, before deciding to stop and ask the team what they were selling. "It's something that should always be in your kitchen cupboard," I was told.
Already a convert to the benefits of Turmeric, I tried the small solution offered and found it was less bitter than my normal brand. I'm now hoping that the company will be at KBB 2020 selling turmeric lattes!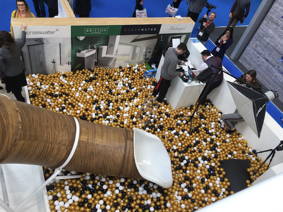 Another clever idea was experienced by visitors to the Bathroom Brands stand. The company had cleverly installed a tubular slide down into a ballpond for those leaving the upstairs hospitality suite in a hurry. What a great way of ensuring that visitors remember your brand - brilliant!
Yours,