In recent weeks both John Austen and I have done a fair bit of travelling between southern Kent, the West Dorset coast, Manchester and many roads in between, and we've been disgusted by all the potholes. We're both agreed that my home town, Epsom, seems to be the winner in pothole numbers, size and depth, and although I rarely see John display anything akin to road rage, I could tell he was far from happy when driving through Epsom earlier this week.
One in my road repaired five months ago failed last month, with vehicles pebble-dashing innocent bystanders at the nearby bus stop, and - with the weather the way it's been - filthy rainwater. The hole's getting deeper; when it isn't waterlogged, you can no longer see the bottom of it from the path.
When traffic allows I drive along straddled across the centre line to avoid the potholes. Mind you - holes isn't perhaps the best way to describe them and I'm wondering whether Epsom is starting to form its own Rift Valley.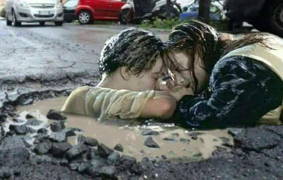 When I can't straddle two lanes, I weave around like a drunk driver and I'm not the only one either. Aware of a survey carried out recently into driver behaviour and thoughts regarding potholes, I came across 'The RAC Guide to the Great British Pothole and Other Road Surface Defects' which had me chuckling with its pictures and descriptions of various pothole types, such as 'alligator', 'slalom' and 'moonscape'. It ended in a guffaw when I reached 'Windermere'. Yes - I know the one! It's not funny though, is it? It's soul-destroying enough to have to sit in traffic for hours on end - particularly if you do it on the same stretch of road, five days a week, but to find that when you're moving, you're lurching all over the place... well - what if you're transporting a lorry load of kitchen or bathroom products? I know everything's very well insulated from damage and this comment today goes against the frustration I've expressed about excess packaging, but I'm now wondering whether potholes are why everything's so well packed these days.
Then there's the danger of drivers unloading very expensive goods, going over on their ankles on uneven surfaces and perhaps unwittingly damaging what they're carrying. I'd love to know, have you had/made any complaints about damaged goods/vehicles as a result of potholes? And if so, what was the outcome? Finally, apologies for the delay in this broadcast. I can't blame it on potholes, but they certainly delayed our return yesterday from a busy exhibition...
Yours,