This picture, which a reader shared with me on Facebook, took me back to the time my shower screen shattered for - as far as I was aware - no reason while I was showering. It convinced me that my now-ex was trying to murder me, since he'd wired up our washing machine in a way that I was subjected to vaguely painful electric shocks every time I unloaded the damp laundry. My father later discovered that the thing hadn't been earthed and I believe one of the wires in the plug was touching something it shouldn't have done, so my shattered shower screen just added to my suspicions!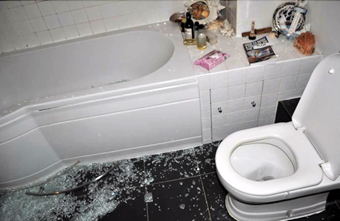 That was a long time ago (I'm still here!) and I'd like to have thought that this type of thing no longer happened, but having read through the comments made under the original post I now know that this is a common occurrence and that it's not just shower screens but glass oven doors that can randomly explode and shatter whilst users are cooking on the hob and even at times that the oven isn't even on.
The chap who no longer has a shower screen contacted his supplier and was told that it could be a combination of incorrect installation (i.e. screws done up too tightly) and a fluctuation in temperature. It surprises me that a shower screen could be so badly affected by temperature changes, since showers are generally geared up to suit the user's individual preference and may sometimes run cold.
Shouldn't we as an industry be warning people that an expert installer should be employed to fit a shower screen, rather than it be a simple DIY project? After all, it will show that not everyone's an expert fitter, and if it prevents the manufacturer's name from being shattered when someone is injured? I know these screens are made, like windscreens, to shatter safely, but what about heart attacks or victims jumping in shock and perhaps bashing their heads or slipping over? Do we do enough to ensure our customers are kept safe?
Yours,