KBzine: the original kitchen and bathroom industry e-news - since 2002
28th January 2021
We strongly recommend viewing KBzine full size in your web browser. Click our masthead above to visit our website version.
---
Toto's Washlet certified as world's No.1 brand when it comes to shower toilets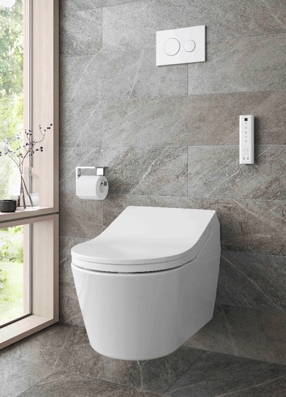 Research published by Euromonitor International has revealed that Japanese bathroom manufacturer Toto is the number one brand globally in terms of sales in the shower toilet market (toilets with bidet functions) with its Washlet shower-toilet.
Since Washlet launched in June 1980, Toto has continually expanded and evolved the range. A genuine innovation in sanitaryware technology, Washlet demonstrates Toto's commitment to the advancement of bathroom design and hygiene.
With over 40 million Washlet sales worldwide in 38 years, Toto has continued to push the boundaries of design technology. Building on its original concept, the company has developed an extensive range of Washlets, each one having more advanced functionality.
In Japan, Washlets are standard bathroom options for residential and commercial markets, where respect for water and cleansing rituals are an integral part of daily life. According to a survey by Japan's Cabinet Office, 79.1% of Japanese households in 2017 use warm water washing systems.
The new Washlet RX is a streamlined version of earlier models offering greater potential to extend its appeal to a wider audience. Designed exclusively for the European market, its form and function projects a slim profile; it is narrower in width and with its curved lines, seamlessly enhances any interior.
The slimline Washlet RX has not lost any of its weight when it comes to technological innovation and boasts a typically impressive array of luxurious functions including a heated seat, the Tornado Flush, a deodoriser, and the retractable wand with warm water spray. It is pre-programmable for two personal profiles offering adjustable seat and water temperature and an alternative wand direction setting.
Toto has pioneered bathroom innovation for over a century and Washlet RX reflects this expertise with its pre-mist function helping to maintain cleanliness of the Cefiontect glaze finish, rimless pan, and a decalcifying function especially useful in areas with a high mineral content water. The urea resin seat discreetly houses the technological components and is automatically raised using sensor technology.
Other benefits include:
EWater+ - Electrolysed processed water. Regular water is electrolysed to give it a slightly acidic pH value, which has an antibacterial effect. The ewater+ is completely environmentally friendly and can be returned to the water cycle without worry.
Warm water washing - The angle at which the water flows - 43° for rear cleansing and 53° for front cleansing - has been refined to perfection.
Heated seat - The temperature of the seat can be adjusted to suit individual preferences, and the smart energy-saving function automatically adapts itself to daily usage patterns.
Deodoriser - The air purifier ensures that the air around the toilet is kept fresh during and after use by passing it through a powerful, effective filter.
Warm air dryer - Once you have been cleansed by the warm water jet, the adjustable dryer will ensure that you end up feeling fresh and clean.
Auto functions - Toto's range of integrated, automatic, sensor-activated functions, including the self-opening and -closing toilet lid, automatic air purifier and the self-activating flush, not only provide ease of use and convenience, but also another key benefit: there's no need to touch the toilet, increasing the level of hygiene in the bathroom.
Actilight - Toto's Neorest Washlet features new Actilight technology. The ceramic bowl has a zirconium coated surface; when the lid is shut UV light is activated, triggering a photocatalytic process which helps the breakdown of waste. This, in conjunction with the super hydrophilic glaze and the Washlet's other features and functions, keeps the toilet cleaner for a longer period of time.
For technology to be truly clean it must do more than enhance personal cleanliness - it must also lead to a cleaner, greener environment. The Washlet is energy and water saving. Custom Cefiontect glaze, intelligent design features and hidden technologies all combine meaning less chemicals and less time spent cleaning.
28th September 2018
---