I was reminded by a comment on Facebook by the Domestic Cleaning Alliance's Stephen Munton, about a range of Electrolux vacuum cleaners which - when I wrote about them in KBzine in 2010 - I'd hoped would soon become widely available. As well as their striking appearance, what made them extra special was the fact that they'd been manufactured from waste plastics collected from the ocean... something useful being made from something bad... Stephen mentioned that back in the late 1990s, Dyson made the 'DC02 Recyclone' cylinder vacuum cleaner out of waste plastic from the factory. The intention was to eventually collect and recycle worn-out Dyson cleaners from customers, so as to continue making the Recyclone, but, sadly, this was never followed through.
What got both Stephen and me reminiscing was a video I'd posted (www.facebook.com) of a boat which is sailing 500km along the coast of Kenya to raise awareness of plastic pollution. Called the Flipflopi, it's made from 10 tons of waste collected on the Kenyan coastline, including 30,000 recycled flip-flops to make the hull and decking! The boat is mooring up to visit schools along the way so those on board can share their views with teachers and pupils on the problems created by plastics and provide insights into repurposing the waste they create.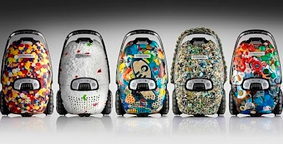 The expedition has already inspired the city of Mombasa to close down a mismanaged dumpsite and get 22 major hotels to ban single-use plastic bottles and straws, so it's doing well.
Kenya introduced the world's toughest plastic bag ban in 2017, decreeing that those producing, selling or using plastic bags could be imprisoned for four years or faced with a fine of up to $40,000. I wonder what delights could be produced from waste plastics if these penalties were to be applied to anyone discarding plastic of any sort? After all, if Electrolux and Dyson can make covetable appliances from waste plastics, why can't everyone else?
Now... flip-flop boat to take me exploring the seas or a colourful vacuum cleaner to help me with the housework... it's really a no-brainer, isn't it?
Yours,