Working across both the cleaning and the kitchens, bathrooms & bedrooms industries, it's something I've often been asked about and ended up in discussion over, but I've never thought about delving into the past to get the answer... I'd always thought it was a matter of opinion. But no.
Thanks to Australian consumer group Choice, whose researchers have examined the patent for the traditional toilet roll and holder, the issue has now been solved. Choice uncovered the patent from 1891 with images depicting the paper going up and over the roll, rather than underneath it and down beside the wall.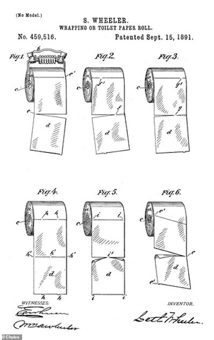 "We have a conclusive answer to the controversial question of whether to hang your toilet paper over or under the roll," says the group. "At risk of permanently losing members, we're here to answer it once and for all: over is the correct method. Perforated toilet paper was invented in 1871 by Seth Wheeler. He subsequently re-patented his invention in roll form in 1891. His patent application includes detailed diagrams that clearly show the paper going up and over the roll, not under. So placing your toilet paper overhand is using this wonder product precisely as its creator intended."
And yes - I've been doing it wrong all my life, but I put that down as much to always having had small bathrooms as I do to anything else. And no, I'll probably not change!
Most people have told me they hang the paper the same way their parents did; some like it going down the wall to prevent the end from tickling their legs, while others don't do it this way for fear of having users contaminate the wall as they touch it to tear off a sheet. Cleaning contractors I've spoken with have said that although the dispensers they use are designed for 'up and over', they deliberately insert the roll upside down to reduce waste, as it's more difficult to let the roll run free that way!
Having had a look at the pictures we've run over recent months, I can see that the consensus amongst the KBB marketing elite is that up and over is the right way to go. I should have looked before, shouldn't I?
Yours,