At a time when our military veterans are in the news - not just because of the recent D-Day anniversary celebrations but also thanks to the harrowing stories of elderly ex-military people being pursued by the authorities for possible war crimes committed decades ago when they were young servicemen following orders, I was delighted to learn that one of our industry organisations is doing something special to support them.
As part of Armed Forces Day 2019 (29th June), The British Institute of Kitchen, Bedroom & Bathroom Installation has teamed up with Defence Discount Service to offer British military veterans and current reservists subsidies on BiKBBI membership as well as opportunities to connect with new career opportunities.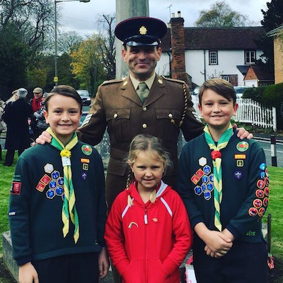 Launched this week, the scheme not only provides a generous subsidy to current and former military personnel, but it is also designed to attract this highly skilled and disciplined workforce into our industry - connecting them to our retail partners and those consumers in search of a professional installation service.
Said BiKBBI CEO Damian Walters (pictured with his children, Alfie, Sienna and Harvey):
"Those who have served and continue to do so, give so much and have so much more to give. It's only right that we give them something back and capitalise on their expertise as we rebuild our own industry workforce. Supporting veterans to start or continue a new chapter in their lives, whilst building a bridge over the skills gap for our industry, is an absolute no-brainer."
What a great idea! 'Killing two birds with one stone' probably isn't the best phrase to describe this initiative, under the circumstances, but it certainly tells it like it is! Well done to all those involved in putting this scheme together and I really hope it enjoys the success it deserves.
The scheme is accessed via The Defence Discount Service at: www.defencediscountservice.co.uk
Yours,