Good news then, for KBB industry manufacturers launching products that incorporate Smart technology, if the results of a survey released today are anything to go by…
Most of us in this industry are aware of how home products can transform the way in which we live, by providing us with increased control and convenience when dealing with various aspects of our homes. In recent years, we've become used to the idea of using Wi-Fi and our smartphones, tablets and computers to control such things as temperature and lighting, to view security CCTV footage and to connect with our appliances – perhaps switching on the washing machine so it's ready to unload when we're available, or the oven so that as we arrive home we're greeted by the aroma of a cooked meal that we prepared before we left. But just like everything, these ideas can take a while to be widely accepted.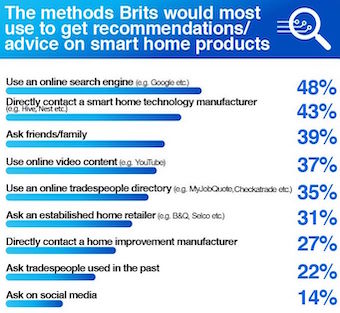 www.sellhousefast.uk surveyed 1,462 UK households to discover the Smart home products they intend to own in 2020. A thermostat (71%) came top with a doorbell following closely at 66%. Perhaps unsurprisingly with the lack of 'bobbies' on patrol, the increasing crime rates have fueled some aspirations on the home security front, with 60% expressing a strong desire to install cameras and 57% aiming to have locks.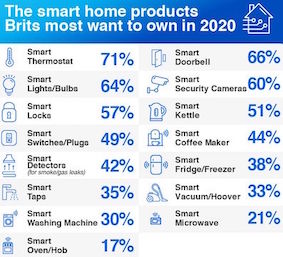 Interestingly, 44% anticipate purchasing a smart coffee maker this Spring. This reminded me of the popularity of the Goblin Teasmade. I never saw one but I'm assuming that these could also now be operated using Smart technology. News that the oven/hob is the least likely Smart appliance people intend to buy, with only 17% wanting the appliance in their kitchen this year, is not so good though.
The advice/recommendations results are worth taking into account too, with 48% saying they use an online search engine such as Google and 43% opting to contact a Smart home technology manufacturer direct. Worth then, working on getting great Google reviews and ensuring your customer services people are well trained, knowledgeable and highly personable!
Yours,