KBzine: the original kitchen and bathroom industry e-news - since 2002
28th January 2021
We strongly recommend viewing KBzine full size in your web browser. Click our masthead above to visit our website version.
---
The Used Kitchen Company sets another milestone in UK recycling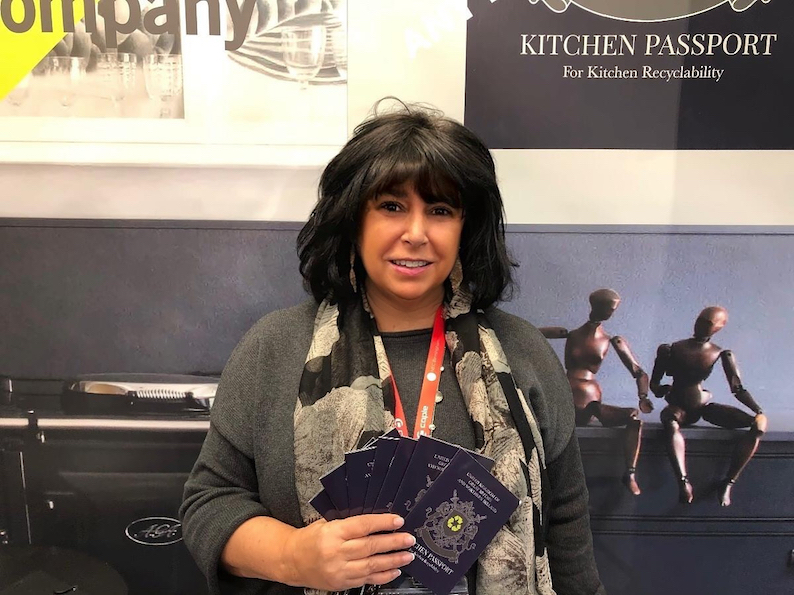 The Used Kitchen Company, the pioneer of kitchen recycling and its champion since 2005, has taken its groundbreaking 'Kitchen Passports' eco-initiative to the next level, as it sets another milestone for UK recycling and waste control.
Having previewed its unique TUKC 'Kitchen Passports' with huge success at KBB Birmingham 2020, TUKC has removed any excuse that the kitchen trade can make for not participating in an initiative that aims to reduce the impacts of continual resource-stripping from the planet.
So kitchen showrooms can clearly show they have genuine green credentials - something becoming a vital factor for many consumers - TUKC has taken its Kitchen Passport online, launching a new website - www.mykitchenpassport.com This is now the virtual home for all Kitchen Passports, 'held' by eco-friendly consumers UK-wide, on behalf of their kitchen.
The TUKC 'Kitchen Passport' initiative is possibly the only response to the call for product passports which sprang out of DeFRA's 'Resources & Waste Strategy' of December 2018. It tackles the issue of waste control head on, building on other initiatives devised by TUKC, such as its 2018 'big figure', (relating to the tonnes of waste it has saved from landfill) and its consumer-friendly 'skip the skip' campaign. The Kitchen Passport is an invaluable initiative for both the kitchen industry and environmental change in the UK.
By creating a Kitchen Passport for every kitchen it wishes wish to sell, a kitchen showroom can instantly demonstrate its commitment to sustainability and show its willingness to shrink its carbon footprint in pursuit of a greener future. Giving a kitchen a TUKC 'Kitchen Passport' is a selling point for any showroom.
Creating the passport is easy. All that is required of a showroom is quick registration at the website, followed by filling in the boxes that ask for the kitchen's year of 'birth', manufacturer's details and the materials used in the kitchen's construction. Showrooms can also add details of how to dismantle the kitchen and also highlight how best to recycle the kitchen's components, at the end of its life.
The Kitchen Passport also enables the passport holder to add the serial numbers of appliances and the numbers of service providers such as showroom, fitter, plumber, electrician, appliance repairers and insurer. That can possibly be advantageous for these businesses.
The initiative is focused on extending a kitchen's 'cradle to grave' lifespan, encouraging not just a first recycling, as would occur between kitchen showroom selling an ex-display model or a homeowner selling their used kitchen, but a second and possibly third recycling thereafter. Quality kitchens can last for decades, but too many head to an early grave.
The Used Kitchen Company's CEO, Looeeze Grossman, says: "A virtual Kitchen Passport can stay with the kitchen throughout its life, enabling one owner to pass on the passport to the next owner and do the right thing by the environment.
"The Kitchen Passport should create a sea-change in the kitchen sector and become a massive circular economy initiative. We have invested in the portal, so that showrooms can highlight their green credentials by creating kitchen profiles. There can be no excuse not to participate and we would also like manufacturers to give www.mykitchenpassport.com their stamp of approval and request that their retailers participate.
"We want to see green action throughout the kitchen supply chain. Scrapping perfectly good kitchens is a shocking waste and we have acted in this dynamic way, to tackle this issue head on and make manufacturers, showrooms and consumers think about the consequences of not recycling something as huge and material-filled as a kitchen."
TUKC now urges kitchen showrooms to head to www.mykitchenpassport.com to upload kitchen profiles and create their Kitchen Passports. It says it is absolutely the right thing to do, for those who care about the planet's future, is free-of-charge, and is an action that could inspire more people to adopt green principles.
TUKC was founded in 2005 and has already become a two-times 'green hero' thanks to saving nearly 15,000 tonnes of kitchen materials from an unnecessary landfill grave over the past 14.5 years.
Independent showrooms and studios have a 40% share of the market and all could participate in the Kitchen Passports scheme. TUKC says 1.2m kitchens were installed in 2017 but only a fraction of these are recycled each year. Mintel's November 2019 'UK Kitchens & Kitchen Furniture Market Report' showed 22% of kitchens were refitted in the last three years. That is more than one in five kitchens and those kitchens are ousting those already in residence within homes, many of which could be appreciated by someone else.
Cabinets make up over half of the spend on a new kitchen and, according to a 2017 study, each 1000mm cabinet, made with particleboard or MDF, generates 26kg CO2e. A 1000mm drawer module, with double doors and one shelf, made from the same material, generates 43kg CO2e. Raw materials are the main constituent of these carbon footprints.
There is a strong financial reason for showrooms to participate in the Kitchen Passports scheme, with many consumers now choosing to only back brands with strong eco credentials.
70% of shoppers in a Trade Fair, Live Fair research survey of 5000 consumers in France, Germany, Italy, Spain and the UK, conducted in 2019, said that law makers must do more to support sustainable consumption.
A 2018 Ethical Consumer Markets report found that, in the previous year, 49% of under-24s had avoided a product or service due to its negative environmental impact. In 2017, the market for second-hand clothes grew by 22.5%, as the climate impacts of fast fashion became known.
In a Futerra survey of 1000 consumers in the UK and USA in November 2018, 51% said donating, recycling and buying ethically can make a big difference to the world. 45% said they thought these actions could maybe make some difference. Only 4% felt they could not.
30th July 2020
---