Since being caught out some years ago, I have believed strongly in the need to employ a trained and qualified professional to do any work for me. Anyone I call in also has to come high on the Checkatrade listings AND be a member of a reputable trade organisation.
The Institute of Kitchen, Bedroom & Bathroom Installers' 'Installation Standards Pledge' (see this week's news for our report) really hit home when I learned about it, as I am as aware as anyone that more needs to be done to change consumers' often poor perception of kitchen and bathroom installation standards and force out the rogue traders.
I realise it wasn't a full installation but I had a taste of the rogue trader recently when I sliced my fridge/freezer cable in two. My first visit was to www.checkatrade.com to see which fridge/freezer specialist or manufacturer's repairer I should contact. There were several candidates, but all suggested that rather than pay their rates (a £65 minimum call out charge for a simple 10 minute job) I should save myself some money by calling an electrician who would do it on a job price.
None of the local electricians were free that day but the Thomson Local had just been delivered and although I don't normally use it I thought I'd see what it had to offer.
One advertiser had a double page spread and was plastered with the logo of a reputable builders' trade association. It claimed to be able to look after its customers' needs immediately and that all its technicians were experienced and fully qualified. The representative told me there was a flat rate charge of £49 per half hour plus materials and knowing it would only be a 10 minute job I booked to have my lead replaced.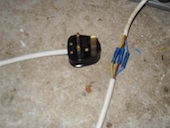 The engineer arrived on time but didn't know quite what job he was supposed to be doing and didn't have a replacement lead. He didn't even know how to remove the old lead from the appliance and said he had never done it before. Nor did he have a plug on him - I had to go and select another not-so-crucial appliance so he could remove the plug from that and use it in the Heath Robinson-effect repair he carried out on the old lead. To cap it all he did not have any electrical tape with which to bind the join and suggested I buy some and finish the repair myself!
To cap it all, he then tried to charge me double for the work as he'd been at my house for 40 minutes - he even threatened to remove his piece of cable if I did not pay up! After a long conversation with head office I was allowed to keep the cable and warned that the tape of my booking would be played back and if it was found that I hadn't misheard the quote I would have to pay the remainder.
The company emailed me the recording and I felt that rather than quibble over the quote regarding the time, my argument should hinge on the fact that I had specifically asked for a cable replacement and that the company had broken its contract. My refund came a week later and I put this down to my threat to inform the trade association and the company's knowledge that I wasn't going to let it get away with this shoddy work. I wonder how another woman with less confidence and knowledge would have fared.
I welcome the iKBBI pledge with open arms and hope the rest of the industry embraces it too.
Yours,