KBzine: the original kitchen and bathroom industry e-news - since 2002
28th January 2021
We strongly recommend viewing KBzine full size in your web browser. Click our masthead above to visit our website version.
---
Amica's Platinum collection joins the set of Hollyoaks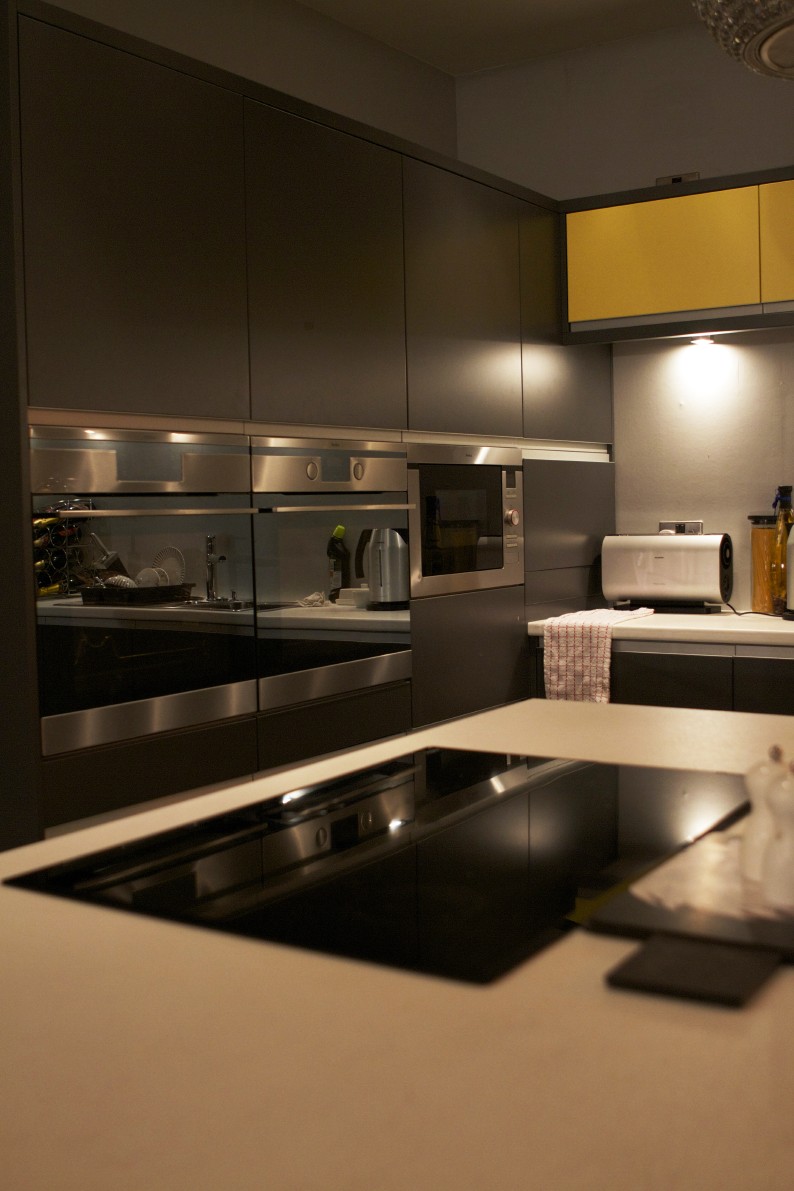 Amica's Platinum collection has been installed as part of a major refurbishment on the set of 1 Stockton Lane, better known as the accommodation above The Dog in the Pond, the public house in Channel 4's award-winning youth drama, Hollyoaks.
The brand new kitchen, refitted by producers Lime Pictures and currently used by the Costello family, contains two ovens and a microwave from Amica's Platinum built-in collection as well as Amica's beautiful 77cm Inari induction hob, which sits in a central island unit.
The Dog in the Pond has been at the centre of the show's setting since it began almost 16 years ago and has witnessed plenty of disasters including an explosion in 2006, which destroyed it and killed five regular characters. The pub has changed hands several times and the current owners - Carl Costello (played by Paul Opacic), a self-assured former footballer and his wife, former glamour model Heidi (played by Kim Tiddy); along with their eldest son and aspiring footballer Riley, over-protected daughter Jasmine (now known as Jason) and Jasmine's twin brother Seth - first came to our screens just before Christmas 2010.
"We are delighted that the producers of Hollyoaks decided to install Amica appliances in the Costello's kitchen set.," beams Simon Freear, country manager for Amica in the UK. "Our Platinum built-in collection and Inari hob exactly fitted the brief for a fully integrated, co-ordinated and sophisticated finish to match the well-polished family.
"We supplied a 1143.4TfYX multifunction fan oven with 12 heating functions, 24 pre-set recipes and an LCD touch control programmer as well as a 1143.4TsYDX multifunction fan oven with eight heating functions, LCD programmer and retractable knobs; each featuring our unique Aqualytic self-cleaning system; along with an AMM25BI 25l microwave with five power levels and 95 minute timer, and a gorgeous 77cm Inari 'open zone' induction hob."
Hollyoaks is known as the 'fourth British soap opera' after Coronation Street, Eastenders and Emmerdale, and is broadcast at 6:30pm weekdays on Channel 4 with an omnibus edition on Sunday mornings.
For further information on Amica's Platinum collection or other appliances:
T: 01425 461600
W: www.amica-international.co.uk
Amica: Tel: 01425 461600. Email: [email protected].
Web: www.amica-international.co.uk
Note to Editors:
Amica, one of the most dynamic household appliances manufacturers in Europe, is expanding in the UK market with its range of freestanding and built-in appliances. With numerous awards and prizes for its products, including Product of the Year 2008, along with The Most Trusted Brand Award for seven years consecutively, chosen by thousands of readers of the Polish edition of Readers Digest magazine, Amica is a producer and supplier of high quality yet affordable cooking, refrigeration, laundry and dishwashing products, all rated A or above for energy efficiency and all of which come with a full two year parts and labour guarantee.
For further press information:
Please contact Deborah Risbridger, DRA Public Relations. Tel: 01425 461600 E-mail: [email protected]
Date issued: 1/11/2011
--------------------------------------------------------------------------------
--------------------------------------------------------------------------------
From: Sam, DRA Public Relations
Sent: 12 October 2011 11:52
To: Freear Simon
Cc: Deborah, DRA Public Relations
Subject: Hollyoaks release
Hi Simon,
Please find the attached press release announcing the supply of the Platinum products to the set of Hollyoaks, for your comments/ approval.
Look forward to hearing from you,
Thanks and best wishes,
Sam
Samantha Bosher
--------------------------------------------------------------------------------
--------------------------------------------------------------------------------
--------------------------------------------------------------------------------
--------------------------------------------------------------------------------
--------------------------------------------------------------------------------
--------------------------------------------------------------------------------
Begin forwarded message:
> From: "Deborah, DRA Public Relations" <[email protected]>
> Date: 1 November 2011 14:05:43 GMT
> To: "Deborah, DRA Public Relations" <[email protected]>
> Subject: Hollyoaks chooses Amica news piece
>
> Hi, Amica appliances have been chosen for the set of Hollyoaks - I do hope you feel this is of interest to your audience. Please let me know if you would like any further details. Regards Debs
>
>
> Amica's Platinum collection joins the set of Hollyoaks
>
> Amica's Platinum collection has been installed as part of a major refurbishment on the set of 1 Stockton Lane, better known as the accommodation above The Dog in the Pond, the public house in Channel 4's award-winning youth drama, Hollyoaks.
>
> The brand new kitchen, refitted by producers Lime Pictures and currently used by the Costello family, contains two ovens and a microwave from Amica's Platinum built-in collection as well as Amica's beautiful 77cm Inari induction hob, which sits in a central island unit.
>
> The Dog in the Pond has been at the centre of the show's setting since it began almost 16 years ago and has witnessed plenty of disasters including an explosion in 2006, which destroyed it and killed five regular characters. Having changed hands several times, the current owners - Carl Costello (played by Paul Opacic), a self-assured former footballer and his wife, former glamour model Heidi (played by Kim Tiddy); along with their eldest son and aspiring footballer Riley, over-protected daughter Jasmine (now known as Jason) and Jasmine's twin brother Seth - first came to our screens just before Christmas 2010.
>
> Simon Freear, country manager for Amica in the UK, said: "We are delighted that the producers of Hollyoaks decided to install Amica appliances in the Costello's kitchen set. Our Platinum built-in collection and Inari hob exactly fitted the brief for a fully integrated, co-ordinated and sophisticated finish to match the well-polished family. We supplied a 1143.4TfYX multifunction fan oven with 12 heating functions, 24 pre-set recipes and an LCD touch control programmer as well as a 1143.4TsYDX multifunction fan oven with eight heating functions, LCD programmer and retractable knobs; each featuring our unique Aqualytic self-cleaning system; along with an AMM25BI 25l microwave with five power levels and 95 minute timer, and a gorgeous 77cm Inari 'open zone' induction hob."
> Hollyoaks is known as the 'fourth British soap opera' after Coronation Street, Eastenders and Emmerdale, and is broadcast at 6:30pm weekdays on Channel 4 with an omnibus edition on Sunday mornings.
>
> For further information on Amica's Platinum collection or other appliances, visit www.amica-international.co.uk or call 01425 461600
> - ends -
>
> Amica: Tel: 01425 461600. Email: [email protected].
> Web: www.amica-international.co.uk
>
> Note to Editors:
> Amica, one of the most dynamic household appliances manufacturers in Europe, is expanding in the UK market with its range of freestanding and built-in appliances. With numerous awards and prizes for its products, including Product of the Year 2008, along with The Most Trusted Brand Award for seven years consecutively, chosen by thousands of readers of the Polish edition of Readers Digest magazine, Amica is a producer and supplier of high quality yet affordable cooking, refrigeration, laundry and dishwashing products, all rated A or above for energy efficiency and all of which come with a full two year parts and labour guarantee.
>
> For further press information:
> Please contact Deborah Risbridger, DRA Public Relations. Tel: 01425 461600 E-mail: [email protected]
>
> Date issued: 1/11/2011
>
>
>
>
> From: Sam, DRA Public Relations
> Sent: 12 October 2011 11:52
> To: Freear Simon
> Cc: Deborah, DRA Public Relations
> Subject: Hollyoaks release
>
> Hi Simon,
>
> Please find the attached press release announcing the supply of the Platinum products to the set of Hollyoaks, for your comments/ approval.
>
> Look forward to hearing from you,
>
> Thanks and best wishes,
>
> Sam
>
> Samantha Bosher
>
>
4th November 2011
---