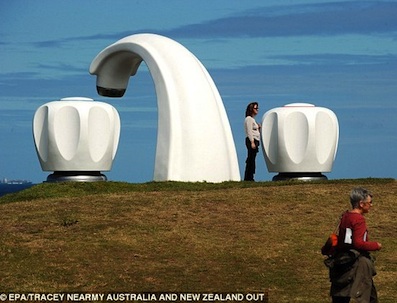 Since becoming Editor of KBZine almost three years ago I've marvelled at some of the slick marketing campaigns those in the KBB industry have come up with, together with the beautifully written press releases that inspire us to seek out new furniture, fittings and appliances for our homes and workplaces.
I can recall in the early days, sending a snippet of eloquence across to John Austen, with a note saying something like, "I love this!" His reply that we were going to like this industry echoed my feelings and I have to say, we have not been disappointed.
When a reader sent me this article from the Daily Mail I took one look at the picture and thought, "Yes - you've done it again!" but on closer look see that you've missed a trick!
'Who left the taps running?' is not a marketing play by one of the clued-up manufacturers or PR outfits, but a huge fibreglass tap making up a collection of artworks in the 'Sculpture of the Sea' exhibition by Simon McGrath along Bondai Beach in Sydney, Australia, which is designed to highlight the environmental impact of humans on the planet.
I'm glad that this is something the KBB industry has already committed to, with its determination to reduce our consumption of both energy and water and I really hope that today and all its ceremonies and gatherings will help to bring peace to this world and more care from all of us, for Mother Earth and all its riches.
Yours,