KBzine: the original kitchen and bathroom industry e-news - since 2002
28th January 2021
We strongly recommend viewing KBzine full size in your web browser. Click our masthead above to visit our website version.
---
Bohle presents exciting new glass surface protection product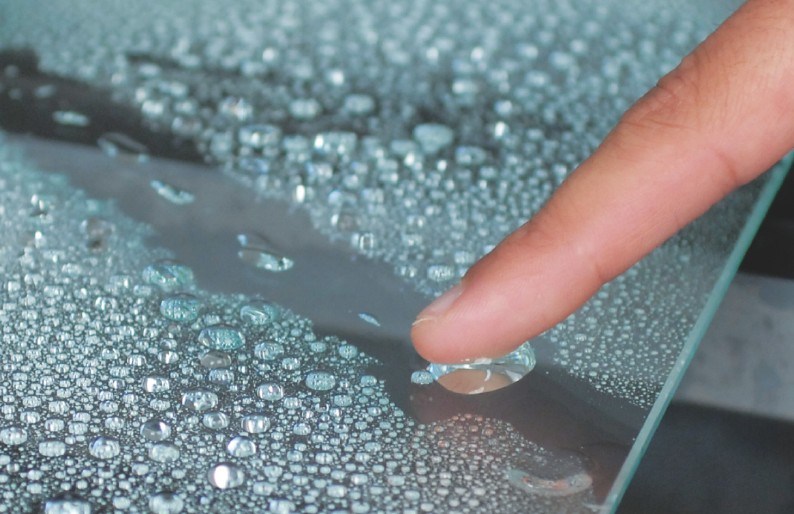 There are many different surface protection products for glass and glazed ceramics available in the market, offering various degrees of protection. In reality, not all live up to the durable protective effect they promise. Moreover, application is often complicated and care problematical. With its new BriteGuard surface protection system, Manchester-based Bohle, is taking the first step in offering a new range of surface coating systems, setting what it says are completely new standards as far as application and durability are concerned.
Developed and produced in-house at the company's Haan manufacturing facility, the innovative BriteGuard surface protection system for both smooth and textured glass surfaces is extraordinarily wear resistant and durable.
The system is designed to use a minimal number of products and can easily be applied, either manually or mechanically.
Bohle Managing Director Dave Broxton believes BriteGuard offers a highly attractive business opportunity to companies installing bathroom and kitchen products:
"BriteGuard was developed for professional use but was also designed to be simple to apply, avoiding expensive application equipment and complex and time-consuming product training," he explains. "We think kitchen and bathroom designers and installers will embrace a competitively priced, simple, but effective surface protection system, confident in the quality associated with the Bohle brand."
BriteGuard is said to be significantly more wear resistant than many other surface protection products currently available in the market. By reacting chemically with the surface, the system forms a high strength functional layer that effectively protects the glass against soil adhesion and glass corrosion. Compared to untreated glass, surfaces protected with BriteGuard simply stay clean much longer and are much easier to clean.
BriteGuard is suitable in particular for protecting glass showers or partition walls.
In keeping with simplicity of the system, no time-consuming training has to be carried out before applying BriteGuard for the first time. The surface protection product can be applied manually with a cotton pad, with a simple spray bottle or mechanically with an applicator.
BriteGuard protection is achieved in only three steps. Before applying the coating, smooth surfaces are cleaned by hand or in a glass washing machine using BriteGuard Surface Activator. This reliably removes organic as well as inorganic contamination from the glass surface. Rough surfaces simply have to be thoroughly cleaned to remove dust and grease.
The protective coating is applied in the second step. The application can selectively be done either manually or mechanically. It is sufficient to simply ensure the protection product is spread evenly over the entire surface.
After the coating has cured, excess material is removed in the third step. BriteGuard Surface Finisher is then applied to smooth surfaces. The application can again be either manual - using a squeegee or chamois - or mechanical, in a glass washing machine. No final cleaning is required for rough surfaces. A simple polish with a microfibre cloth will suffice.
The BriteGuard protection is extremely wear-resistant and durable. Once professionally applied, under normal circumstances the protective function can typically remain for up to 15 years. The prerequisite for maintaining the protection is cleaning the glass only with typically available agents instead of aggressive or abrasive products or compounds.
Nevertheless, even the BriteGuard surface protection cannot do without refreshment. It depends on the environmental conditions and the degree of wear of the surface after which time a refresher is needed. Bohle recommends refreshing the coating once the beading effect is noticeably reduced on the clean glass surface.
Caption: The surface tension of this functional layer is extremely low, ensuring that organic soiling (e.g. from soap residues) and inorganic soiling (e.g. limescale) hardly stick to the glass surface and can be removed very easily.
T: 0800 616151
E: [email protected]
W: www.briteguard.com
9th December 2011
---