KBzine: the original kitchen and bathroom industry e-news - since 2002
28th January 2021
We strongly recommend viewing KBzine full size in your web browser. Click our masthead above to visit our website version.
---
Annual Bathroom Conference - Government austerity is killing consumer spending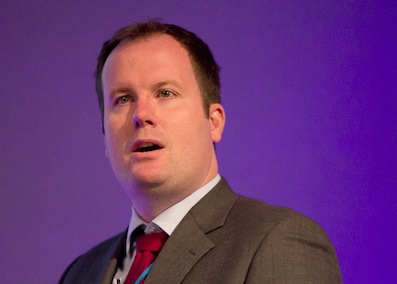 The world economy has been on a turbulent ride and whilst there was a bounceback in 2010, growth is slowing and turbulence remains high. Scott Livermore, chief operating officer at Oxford Economics, asks just when will we see a UK recovery?
The impact of the global financial crisis is clear to see, with recovery hampered by ongoing Eurozone sovereign debt crisis. In 2011 manufacturing decelerated globally - declining in the Eurozone, stagnating in Japan and barely growing in the US.
It is clear that the UK is facing some considerable headwinds that account for its overall weak performance. Firstly there is austerity. Fiscal austerity, uncertainty and tighter credit conditions have weighed on forecasts across the Eurozone, not just the crisis countries.
2012 looks like a very difficult year for the Eurozone even if it does manage to remain intact with most countries - even Germany - in recession. Consumers are still under pressure from rising prices and unemployment is rising, while uncertainty is hitting investment. Austerity is biting hard and set to bite much harder.
The political paralysis in the Eurozone has already had its debilitating effect on the UK. The Euro crisis has hit UK sales to Europe, which still takes the lion's share of our exports (as a single entity, but only 40% overall. Ed.) and export orders have slowed to a crawl.
The Eurozone crisis casts a long shadow. European Central Bank action has reduced the chances of imminent breakup. But more action is needed to keep the Eurozone together, such as:
* The ECB becoming even more interventionist
* More bailouts for Greece & Portugal and a full bailout for Spain
* A move towards fiscal & banking union
* A change in macro policy
Will it happen?
If it doesn't. the economic cost of collapse would be enormous and the future direction of European Union would also be challenged.
Do not underestimate political investment in the Eurozone!
So what are the factors that are holding back consumer demand? Stubbornly high inflation on the back of commodity prices, tax hikes and benefit cuts and rising unemployment, as well as pressure for households to lower their debt exposure all lead to 'household deleveraging'.
In 2009 and 2010 the Government made extensive efforts to support the economy, but this support went into reverse from 2011 and over the forecast period, fiscal policy will reduce GDP growth by around 1% per annum.
The current budget will be reined in through a mixture of reductions to government services, cuts to benefits and higher taxes. Public-sector budgets and employment are expected to decline in 2012-15 as the Government tries to eliminate its structural deficit, with healthcare the only significant expenditure area expected to keep rising in real terms - and this will weigh on exposed sectors such as health, education and social services. Public spending is also important for other sectors with around 10 - 15% of precision equipment, office machinery and pharmaceutical sales supported by the public sector.
And capital budgets will continue to be cut: even NHS capital spending will fall by around 20% cent in real terms between 2010 - 11 and 2014 - 15, while defence budgets are also under pressure. The squeeze on public sector capital budgets is also likely to weigh on the construction sector. The total volume of infrastructure activity should remain high by pre-2010 standards - helped by the investment programmes of private utilities and major transport projects including Crossrail - with recent trends in orders more encouraging here.
Even so, the squeeze on some public programmes such as roads is likely to ensure that growth in infrastructure activity remains rather modest over the next three or four years. Construction activity of public buildings is likely to continue to be squeezed even more severely, with the move to much more limited spending on school buildings in particular.
The austerity plan has had a very damaging effect. Capital spending may be politically easier to cut than current spending and the worst of the capital spending cuts are over, but spending will remain very low. The end of the Olympics building project has exacerbated the downturn further. And what has happened to the plan to use the private sector (pension funds and insurers) to fund infrastructure projects?
The main factor holding back consumption, however, is income growth, which has been falling in real terms i.e. adjusted for inflation. Consumer prices have been pushed up by VAT hikes and higher commodity prices, while the weak labour market has seen unemployment rise and wage growth moderate.
Although inflation has remained stubbornly high at the beginning of 2012, it is expected to fall back - VAT has already dropped out of the figures and the contribution from commodity prices is expected to ease. Nevertheless, real wage growth is expected to remain negative for most of this year, picking up in 2013 and 2014 as employment prospects brighten and inflation remains low.
Household spending has been weak for an extended period, especially on household goods such as white goods and consumer electronics. As well as being big ticket items, which households are reluctant to spend on when existing washing machines, fridges and TVs are functioning perfectly well, they are linked to the housing market as households typically buy these when moving house. Although the housing market has stabilised, turnover is running at around 50% of peak levels and the pickup is likely to be slow.
Stronger retail sales growth in recent months has boosted retailers' confidence in a consumer spending revival, although much of this growth was due to heavy discounting and weather-depressed sales a year earlier.
The financial positions of corporates are relatively healthy having cut back heavily in the last recession. Although the profitability of the corporate sector deteriorated through 2011 as higher raw materials prices and weak pricing power have squeezed corporate profitability, most indicators still compare favourably with historical norms. The financial balance of companies remains high and these financial conditions are typically associated with a pickup in investment activity.
Lower inflation will boost households' spending power and support a gradual recovery in consumer spending though recent rises in commodity prices have delayed this process and there is more deleveraging to come, which will constrain the pace of the consumer recovery.
Companies have accumulated large cash surpluses, which should underpin a strong pickup in business investment. The export outlook will gradually improve as the Eurozone gets back on its feet, though our key markets are likely to remain under par. But the austerity plan will remain a drag on growth.
Unemployment remains high and falling public sector employment levels will remain a drag. Real incomes should gradually strengthen providing some support. Housebuilding is likely to remain low while the housing market remains weak and development funding remains tight.
So what should the Government be doing?
Some progress has been made already, such as:
* Temporary relaxation of rules on extensions (although the Local Government Association now say they will not implement it. Ed.)
* 'FirstBuy' home equity scheme for first time buyers
* Promise to implement Montague report on investment in private rental sector
* More flexible approach to section 106 agreements
But more could be done, such as:
* Abolish stamp duty for first time buyers
* Incentivise landowners to use existing planning permissions
* Greater infrastructure investment - smart grid, renewables, nuclear power
* Sector-specific supply side package - VAT thresholds, apprenticeship schemes, employers' NICs relief
12th October 2012
---