KBzine: the original kitchen and bathroom industry e-news - since 2002
10th August 2018
We strongly recommend viewing KBzine full size in your web browser. Click our masthead above to visit our website version.
---
Ecobuild's seminar programme now available and ready to excite you!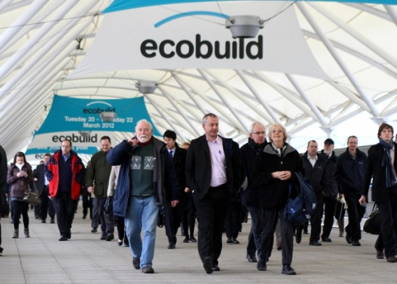 Ecobuild's renowned seminar programme offers more than 130 sessions covering the most pressing and important issues for built environment professionals - and it is now available for you to view online - but which to choose?
With the emphasis throughout on delivering practical and applied information, each seminar is structured to provide key learning points, supported by case studies, analysis, and examples of best practice. And as places are available on a first come, first served basis, you need to arrive in good time to be sure of your place, so it would be well worth visiting the site today to start planning how you'll spend your time at the event.
Seminar Categories include...
Self-build and renovation:
Britain has one of the lowest self-build levels in Europe, though it has increased to just over 10% of new homes over recent years. The new National Planning Policy Framework goes some way towards smoothing the process for self-builders looking to build a new home and there are now new models of delivering self-build at community level coming to fruition. Ecobuild highlights some of the success stories (both new-build and refurbishment, large-scale community plot development and individual homes, exemplars from Europe as well as home-grown case studies) and asks how can a self-builder ensure that his sustainable new build or eco-renovation project is as cost-effective and energy efficient as it can be.
Buildings in use:
Improving the energy efficiency of all buildings is critical if the built environment is to make a significant contribution to cutting carbon emissions. Equally important is a low energy design approach for new-build. However, the performance gap persists (energy use is consistently higher than predicted). This stream tackles the interconnected issues of the performance gap; post-occupancy evaluation; building performance evaluation; and the Soft Landings programme which the Government is rolling out in 2016 to ensure that occupiers have an opportunity to fully understand how a building works in a "handover" period post commissioning.
Water, waste and materials:
It has long been recognised that limits to resources are and will be a major global challenge, exacerbated by population growth and increasing urbanisation. There are issues at all levels to be considered in terms of obtainable resources and their efficient and fair use. This seminar stream will explore a range of approaches relating to resource stewardship in terms of water, waste and materials cycles which can contribute to achieving this goal as many of these are in the hands of built environment professionals and investors in both the private and public sector.
Delivering sustainability in the city:
Our towns and cities are facing increasing impacts of climate change. By 2030 it is expected that over 90% of the UK's population will be living urban lifestyles. How can our towns and cities become life enhancing habitats for all, rather than sources of environmental degradation? This seminar stream will explore an integrated approach to delivering urban sustainability from city regions to local neighbourhoods, demonstrated throughout by case studies.
Passivhaus:
Passivhaus is a low energy standard that relies on an extremely efficient envelope to keep annual heat energy demand below 15kWh/m2 per year. It is a tried and tested approach that is becoming increasingly popular in the UK as Passivhaus buildings perform close to design predictions and are comfortable for occupiers too. Achieving Passivhaus certification relies on careful building design and forensic attention to detail during construction. This seminar stream examines why Passivhaus is a standard worth aiming for and the design and technical strategies needed to achieve it. The session also explores how Passivhaus interfaces with UK specific regulations and how it can be used on large projects.
Whole life carbon and other impacts:
As building regulations drive down the amount of carbon generated from heating, cooling and lighting buildings, the carbon embodied in the materials from which these are constructed becomes more significant. Understanding what makes up the whole life carbon footprint of buildings is a complex subject. What are the relevant standards to apply? How should whole life carbon be measured so that like for like comparisons can be made? How do we design effectively for both construction and deconstruction? To what extent is design intent matched by achievable outcomes? How does user behaviour influence overall carbon use? Whole life carbon poses many questions and needs to be understood by all engaged with design in the built environment.
Refurbishing Britain:
It is estimated that at least 70% of the UK's housing stock likely to exist in 2050 has already been built. Three-quarters of these existing dwellings were built before 1975 with 25% built before 1919. Furthermore 65% of houses are owner-occupied. Buildings emit 44% of the UK's entire greenhouse gases with 27% coming from homes and 17% from other buildings. The Climate Change Act required that an 80% reduction in greenhouse gases on 1990 levels is achieved by 2050 with 30% achieved by 2020. The EU 2050 Building Sector targets require an 88-91% reduction on 1990 levels by 2050. The only way these targets can be met is by refurbishing and retrofitting buildings on an individual, neighbourhood and city wide scale.
Property:
Cutting carbon emissions from commercial buildings is a particular challenge because of the business model applicable to this sector. Traditionally landlords have been reluctant to invest in more sustainable buildings because of perceptions there is no uplift in residual or rental values and tenants have been reluctant to pay more for a greener building. The picture is slowly changing, CSR is creating a market for green commercial property and occupiers are increasingly specifying a minimum environmental assessment rating. Landlords and occupiers are adapting a more long term approach to built environment assets and are increasingly collaborating with green leases to cut energy use. This session explores these issues.
You can find out more about the individual sessions that come under these categories, by visiting:
7th December 2012
---