Britain has seen three major High Street chains go into administration this week: Jessops (for many years The High Street's camera specialist), Blockbuster (the long-time leader in home video/DVD rental) and HMV (the last remaining dedicated music outlet). And of course there was Comet not that many weeks back.
As well as the recession, people are blaming the companies' failures on the growing use of the Internet for personal shopping and for Jessops this is particularly sad as its staff have shared their expertise with customers interested in finding out about a camera's attributes, they've demonstrated how the camera works and allowed the customer to 'have a play around with it' before seeing the customer go off to, no doubt, search for and buy the camera online, to save money.
Perhaps if the marketing people had been a bit more switched on they'd have found a way of using the superior service offered in-store to the company's advantage - perhaps even by charging for it and then offering discount vouchers to be put towards purchases made at the store. I don't know if the company had an Internet-based mail order business but if it did, it wasn't publicised enough. Jessops' demise needs to be taken as a warning to other companies like it, to find a way to work with the Internet rather than ignore it in the hope that it won't take too much business away.
And in case you're wondering why I've explained what the three companies do (when here in Britain we should all know) it's because John Austen tells me that we now have something approaching global readership and 120,000 page views, as this screen-grab shows.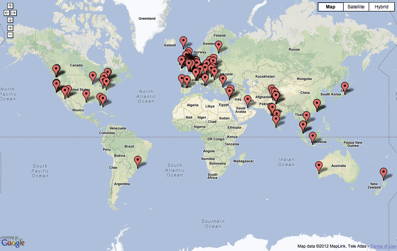 Although this image depicts the locations of just the most recent 200 readers it does serve to illustrate how widely read KBzine is.

The wonders of the Internet, eh?
Comments of your own? Email us, or post on our FaceBook page.
Yours,