In what is probably one of the most important roles he has ever played, Oscar-winning British actor Jeremy Irons has become something of an eco-warrior in recent years and yesterday, he jointly hosted a conference in Brussels to mark the publication of the EU's green paper on plastic waste, which aims to make us rethink our use of plastics.
Jeremy called upon us all to make ourselves more aware of the impact of our "unadulterated consumerism".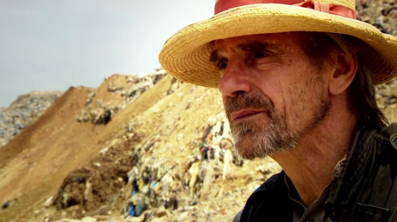 "I refuse to call it waste. 'Waste' is a verb," he said. "It is what we do. We are wasting our resources." The actor said we need to concentrate on what is important in life and that he is now working hard to raise awareness about the effects of plastic waste - including the leaking of endocrine-disrupting chemicals – and to promote recycling.
He criticised the waste disposal business for its "vested interests", which he said were preventing society from tackling full on the problem of plastic waste in the same way that it tackled drink driving. "I hope some people will be embarrassed out of their comfortable way of living," he said.
Public consultation under the green paper will last until the beginning of June 2013, resulting in further policy action on plastic waste in 2014. You can learn more by watching the short trailer to Jeremy's documentary, 'Trash' at www.trashedfilm.com and by reading the news story below – and, indeed, you can have your say.

Yours,