I'm sorry that today's issue of KBZine has landed in your inbox a little later than normal but John and I have been away at an exhibition at the NEC all week and while you may be aware of how tiring these shows can be, you probably aren't aware of the extra work involved in producing the 'Official Show Daily', which we've been doing!
I had been feeling all 'exhibitioned-out' and hadn't wanted to look at another exhibition stand in this lifetime but the battle to get this week's stories in place was interrupted just now by the 'ping' of a new email which just happened to be the announcement by KBB London that the exhibitor list is available to view. I've had a peak and I now have 'exhibition excitement' again!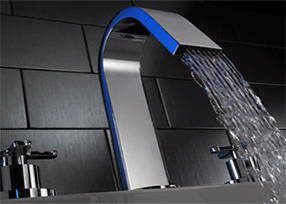 Pictured here is one of Abode's new taps. I can't wait to see more gorgeous KBB goodies at the event – and of course I won't have to wait for long as the show opens its doors on 19th May.
You can view the full exhibitor list (as it stands now) at:
http://www.kbb.co.uk/page.cfm/Action=ExhibList

Yours,