Like Jo Swinson, the Minister who unveiled the proposed new consumer rights bill this week, I would encourage both consumers and tradespeople striking a deal about the supply of goods and/or services, to record their conversations and confirm everything by email. Having been on the receiving end of what I can only describe as a scam a couple of years ago, it was a recording 'for customer training purposes' (which the supplier expected to use to extract money from me for a job not carried out correctly), that won my case without the need to involve the Courts.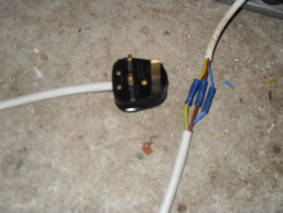 I'd quibbled that I was being charged double what I'd been quoted and I asked for a copy of the tape, which proved that I'd been quoted the price for half an hour's, rather than an hour's work. The fact that the "per half hour" had been quote very quietly and that work was supposed to have taken 10 minutes didn't come into it; the company thought it had me over a barrel.
What the tape also proved however, was that I'd booked a technician to replace a lead from my fridge freezer – not to repair it (the picture shows the repair, which used a plug taken from another appliance of mine as the technician had arrived without a new lead, nor indeed a plug – and prior to our falling out told me I'd need to buy some electrical tape from a DIY store which I'd need to fit myself, to make the repair safe!).
OK so this time the recording came down – quite rightly – on the side of the consumer, but I know also that many contractors' businesses are folding because consumers and supposed professional organisations are withholding money without cause, often consistently paying late but sometimes finding a lame excuse to not pay at all. Having something recorded or in writing is the perfect way to help solve these issues for both sides, without resorting to legal redress.

Yours,