I'm sure we've all by now seen the images being beamed around the world of the conditions in various hotels in Sochi – host to the Winter Olympics which officially open today. What a missed opportunity for the KBB industry!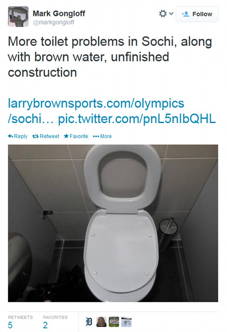 I've seen side-by-side w.c.'s in a single cubicle, urinals without plumbing, a disabled facility with a row of spectator chairs facing the loo itself and even a toilet with the seat and lid fitted upside down! How on earth did that happen?
And then there's the waste disposal aspect of the plumbing… The sign on one door instructing users not to attempt to flush used toilet tissue but to put it into the bin instead, horrified me.
However, reading comments on the online forums, I can see that the need to bin used toilet tissue is not uncommon in some parts of the world that I'd not previously considered to be 'third world'. I'm fairly well travelled (including to the old 'Eastern bloc' countries) and it's not something I've ever come across, but it's clear to me that many of the hotels in Sochi need some help! If there's any money left after the Games have ended, it might just be worth getting in touch and showing what we have to offer…
Don't forget to 'like' our Facebook Page, or comment any of our Story Pages.

Yours,