I came across an interesting article on the Web this week that had appeared in the Daily Mail. If you didn't see it, the piece featured some of the very unusual work of San Francisco-based artist Clark Sorensen, who manufactures luxury urinals based on exotic flowers and plants. It apparently takes the 54 year old between three and eight months to shape each urinal out of clay before he bakes it twice in a 2,300-degree oven for two days. This final stage must be particularly taxing as the urinals can sometimes crack!
Clark's fully functional works of art have been exhibited in galleries all over the world, where they have inspired consumers to spend between $6,000 and $20,000 just so they can have one at home or in their place of work.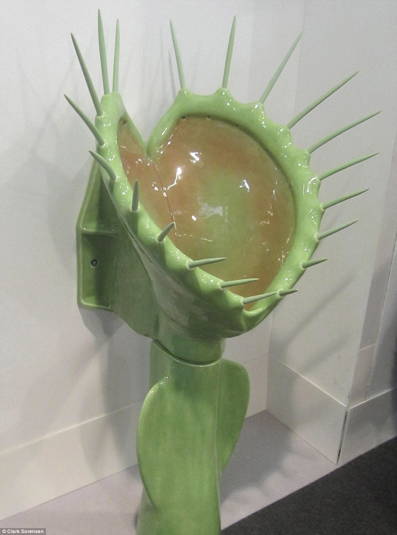 In his artist statement, he says: "Because most people think of a urinal as being ugly or dirty, it is the perfect object to beautify. My pieces echo the classic conflicts between masculine and feminine, good and evil, soiled and chaste.'
I'm not quite sure where this Venus Fly Trap urinal (which comes with an $11,500 price tag) comes into that mix, but I have to say it looks pretty scary! Thank goodness the spikes are made from silicone rubber.
You can see more of Clark's beautiful works at: bathroom-humor and if something a little more down to earth suits your taste, don't forget that the very latest bathroom, kitchen and bedroom equipment will shortly be on display for close examination at kbb 2014. If you haven't registered yet, visit: www.kbb.co.uk
Don't forget to 'like' our Facebook Page, or comment any of our Story Pages.

Yours,