KBzine: the original kitchen and bathroom industry e-news - since 2002
23rd May 2019
We strongly recommend viewing KBzine full size in your web browser. Click our masthead above to visit our website version.
---
What is infrared heating?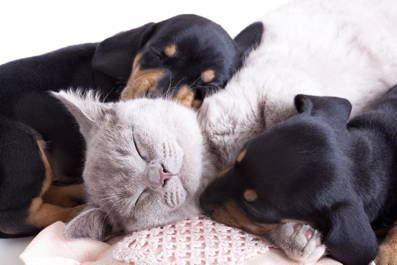 We've run items on infrared heating in KBzine before, but were never quite sure how it all worked. In this article, Peter Ferguson from Infrarad, explains all...
Infrared heating is the heat that we all enjoy from the sun. The best way to understand how this works is on a cold morning when the clouds clear and the sun comes out and you instantly feel the heat and warmth of the sun. So do the solid objects around us; we all pick up this heat and radiate it back and the air temperature rises.
Imagine being able to do this inside the home... Infrared heating from Infrarad does just that. By using a specially developed carbon fibre fabric, direct, long wave infrared is generated - C range radiated heat from the energy (electric) supplied. This radiated heat does not need air to circulate the heat but permeates it almost without loss and turns into heat where it meets objects, walls and ceilings which store the heat and release it evenly into the room. This means that the walls, floor and ceiling are always dry.
Conventional heaters operate on the principle of convection. They give off their heat to the cold air near the ground. This warmed air rises to the top of the room and finally falls down again onto the cold walls and floor. This results in dry air circulation which stirs up dust and bacteria. Strictly speaking, this type of heating is outdated and the heat emitters are really convector heaters. Infrared heaters are genuine radiators as they radiate the heat using infrared energy to heat the surroundings.
Our wellbeing depends primarily on the ambient air temperature and that of the surrounding surfaces, walls, floors and ceilings. With warm surfaces, such as those produced by Infrarad's infrared radiators, householders will feel warm, comfortable and cosy almost immediately at much lower ambient air temperatures, resulting in immediate energy savings and a healthier environment.
With the advent of 'infrared heating', the radiator market is poised for the next heating revolution. There is no real established market nationally (yet) for this type of product/technology apart from a few Internet-based trading companies selling direct to the consumer - as well as a few regional door knockers. There has been no merchant/wholesaler, bathroom retail presence through the traditional supply chain for this product.
However, Infrarad Ltd is changing this rapidly and, since being fully operational from the beginning of March 2014, has opened accounts and despatched displays and follow up orders for almost 60 switched-on outlets across the UK.
The market is ready for a new energy-efficient source of heating (infrared can use up to 50%+ less energy than most other forms of heating) with a range of exciting designs for all applications. Infrarad is about to launch further additions to the range with mirror, glass and granite radiators to enhance living areas. The designers and retailers/merchants will have a field day: new technology, genuine energy savings, and stylish, premium products at sensible prices with plenty of choice. The strategy here is to offer style/chic with quality and reliability, to offer exciting designs and functionality and to ensure there are sensible margins for all involved. The range of products is fully compliant with legislation and the products have the CE Mark.
Here at Infrarad, we have developed a range of infrared radiators to specifically for any situation: bathroom, living room, study, kitchen, bedroom, office, warehouse, workshop - almost any application and most situations. Infrarad's range of infrared radiators is far superior to all other central heating systems such as gas and oil-fired central heating systems, electric boilers, storage heaters...the list just goes on and on, and by comparison to other systems, infrared uses less energy and costs very little to run.
Unlike a lot of other heating, at least 95% of the heat generated from an Infrarad radiator will radiate into the room. Almost no heat is emitted from the back of the radiator, so warmth is enjoyed quicker.
The Golden Rule
Most traditional central heating requirements are calculated at 50W per cubic meter (m3) and a room measuring 4m x 3m with a ceiling height of 2.4m would calculate as follows:
4m X 3m = 12m2 X 2.4m = 28.8m3 X 50w = 1440...so this room requires 1440W of heat, so a 1.5KW (1500W) convector radiator would be required.
For infrared heating, the requirement is calculated at 25W per cubic meter m3, therefore the same room would calculate as:
4m X 3m = 12m2 X 2.4m = 28.8m3 X 25w = 720W of heat, so an 800W Infrarad Contract radiator would be required.
Obviously each property is different and the above calculation will vary from building to building depending on age, level of insulation, north/south facing.
Infrarad recommends that the installation of each project is carried out by a competent, professional installer. The company's website will host a list of preferred installers as well as an 'installers lounge' for technical support.
T: 01525 851122
W: www.infrarad-heating.com
11th April 2014
---