I had to chuckle when I received a press release about how much more quickly a vehicle will depreciate in value if it's not looked after properly - and that includes cleaning and polishing, which apparently helps preserve the bodywork!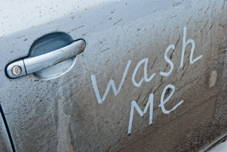 I've always believed that a car, van or lorry with the owner's company details emblazoned on it is a 'shop window' for the company every bit as much as a real shop frontage is, be it on the high street, side street or industrial park, in as much as it reflects the company's image.
Likewise, the way a company car or van driver conducts him or herself on the road will give other road users and pedestrians a perception of what your company is like.
Is your vehicle reflecting the image you wish it to? And how about your colleagues and employees? And what about the driving itself? Are you aware of the impression you and your employees are giving, as you go about your business?
With the press release mentioned at the start of this leader, was an image of a car with the words 'wash me' written in the dirt. How often have you seen something similar on the road? When you see it on a signwritten vehicle, does it inspire trust and make you think the company concerned is a good one or does it shout, 'cowboy'?

Yours,