KBzine: the original kitchen and bathroom industry e-news - since 2002
30th July 2020
We strongly recommend viewing KBzine full size in your web browser. Click our masthead above to visit our website version.
---
Whirlpool launches new dishwashers with PowerDry option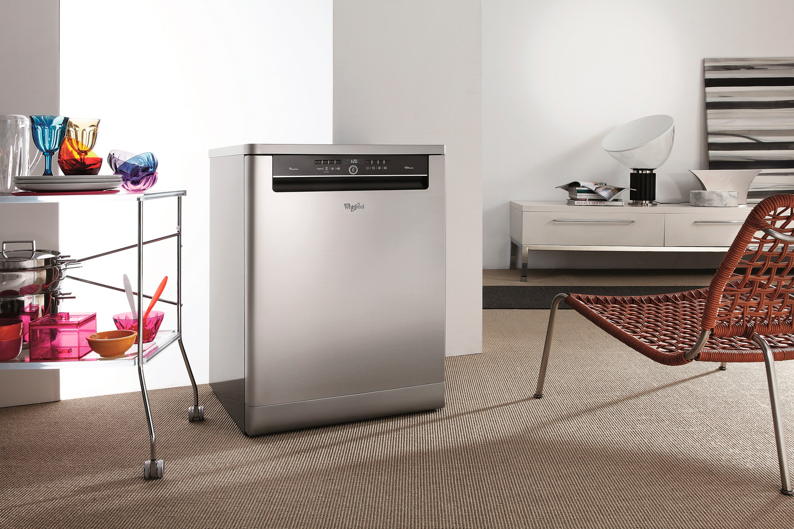 Whirlpool has launched some impressive new top of the range dishwashers for 2014 for both its built-in and freestanding collections. The new 6th Sense PowerClean dishwashers have a clever PowerDry option, which makes them the No.1 in cleaning and drying in just one hour.
As we witnessed during Wednesday's launch, this PowerDry option makes clouds of steam a thing of the past when you open the door after dishwashing - and everything, including plastic items, is perfectly dry and ready to put away! The machines are incredibly quiet too...
The improved performance is achieved by way of a new and innovative technology, which delivers outstanding drying results thanks to a new dual airflow feature and humidity-condensing fan that activates during drying. This latest innovation makes it possible to offer a complete wash and dry programme in just one hour.
As if that weren't enough, the new dishwashers detect and sense the grime, and automatically adjust the water usage and manage the temperature and length of the programme. This all saves up to 50% of water, energy and time.
The 'A+++' energy rated freestanding and integrated models are equipped with 28 PowerClean jets situated at the rear of the dishwasher, dedicated to the removal of burnt on food to ensure that pre-washing is a thing of the past. Stacking dishes vertically creates and additional bonus of up to 40% more space in the lower basket.
The dishwashers offer some of the most flexible loading options available due to sturdier baskets that pull out more easily and steadily. The flexi-load system has six foldable areas in the lower basket and another four in the upper basket, which is also height adjustable and removable and can be pulled out fully for loading and unloading.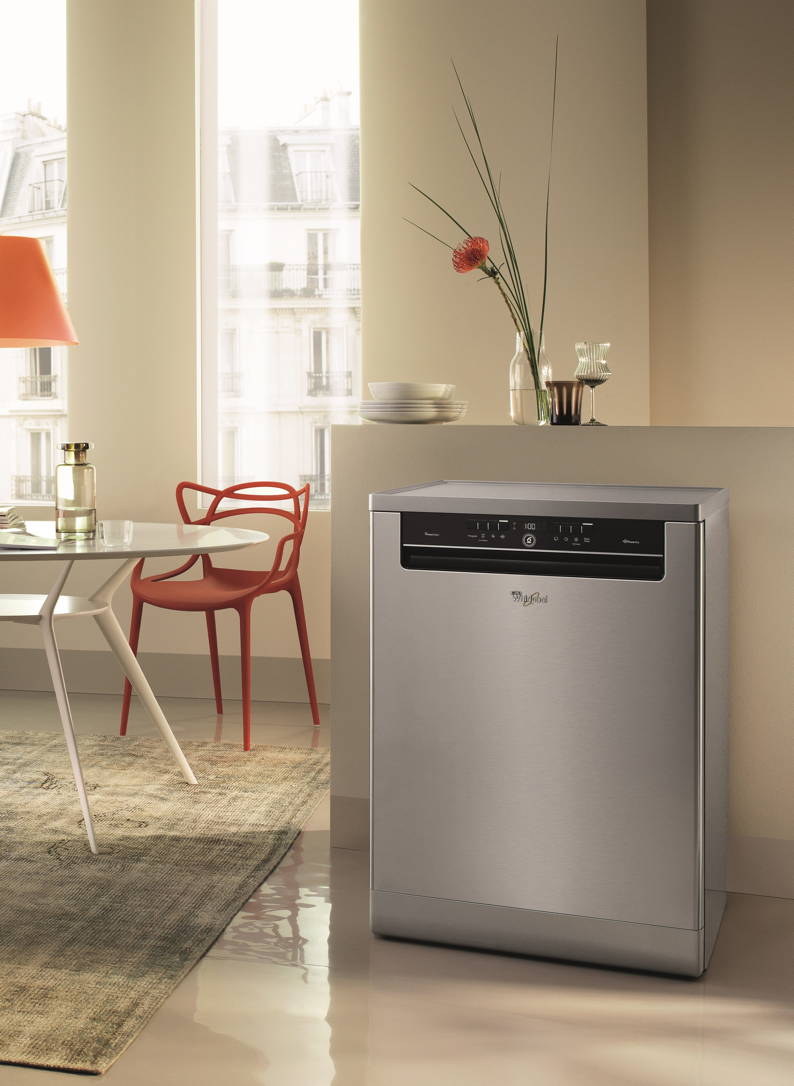 As well as new and genuinely innovative technology, the freestanding dishwasher offers a fresh aesthetic. It oozes minimalism, with an integrated handle inset into the flat stainless steel door, which is offset by a subtle curvature of the door for an elegant and contemporary style. The new design fits perfectly with the Whirlpool Absolute collection refrigerators.
As the machines are so quiet, Whirlpool has incorporated a light that glows from underneath during operation, enabling busy users to see at a glance when they're able to unload.
Neil Austin Trade Marketing Manager said: "Whirlpool has taken an important leap forward with the PowerDry concept. We are constantly looking for new ways to make our appliances simpler to use and life easier for our consumers through genuine technological advancements. The improved drying efficiency on our PowerDry models answers a major consumer requirement and proves that plastic items can be dried in a dishwasher and you can steam ahead without the steam."
Key features and benefits of the new Whirlpool freestanding ADP 900 IX dishwasher with 6th Sense PowerClean and PowerDry option:
* No.1 for washing and drying a full load in just one hour.
* New PowerDry technology eliminates the inconvenience of steam, damp plates and wet plastic items enabling the removal of dishes straight after dishwashing. The improved drying efficiency means that even plastic items are dry on opening the dishwasher
* Whirlpool 6th Sense PowerClean technology eliminates the need for soaking, scrubbing or pre-washing, as its 28 jet spray system scours pots, pans and baking trays to remove the toughest soiling. Provides up to 40 per cent more space in the lower basket of the dishwasher
* Whirlpool 6th Sense Intelligent technology offers saving of up to 50%in water, energy and time
* A+++ energy class to maximise energy saving; AA for washing and drying
* Large 13 place setting capacity with flexible loading options and sturdier racks that pull out more easily and steadily. The upper basket is height adjustable with four foldable options and is also removable; while the lower basket has six foldable sets of tines
* Multizone option for choosing whether you wish to wash just the upper basket, or just the lower basket, or both
* Ten flexible and convenient programmes and eight temperatures including new one hour Wash & Dry programme to wash and dry a daily load in one hour. Programmes include: Daily 60; Eco 50; Express; Glass; Intensive 65; Overnight; Pre Wash; Sensor 40-70; Steam and convenient start delay up to 24 hours
* Autoclean self-cleaning filter system for ease of maintenance and superb cleaning every time
* Easy operation with digital countdown
* Water consumption on Eco 50 programme of 10 litres
* Whisper quiet noise level of 44 dB(A)
* Dimensions: H x W x D: 850 x 597 x 590 mm
Key features and benefits of the new Whirlpool integrated ADG 2020 FD dishwasher with 6th SensePowerClean and PowerDry option:
* No.1 for washing and drying a full load in just one hour.
* New PowerDry technology eliminates the inconvenience of steam, damp plates and wet plastic items enabling the removal of dishes straight after dishwashing. The improved drying efficiency means that even plastic items are dry on opening the dishwasher
* Whirlpool 6th SensePowerClean technology eliminates the need for soaking, scrubbing or pre-washing, as its 28 jet spray system scours pots, pans and baking trays to remove the toughest soiling. Provides up to 40 per cent more space in the lower basket of the dishwasher
* Whirlpool 6th Sense Intelligent technology offers saving of up to 50% in water, energy and time
* A+++ energy class to maximise energy saving; AA for washing and drying
* Large 13 place setting capacity with flexible loading options and sturdier racks that pull out more easily and steadily. The upper basket is height adjustable with four foldable options and is also removable; while the lower basket has six foldable sets of tines
* Multizone option for choosing whether you wish to wash just the upper basket, or just the lower basket, or both
* Ten flexible and convenient programmes and eight temperatures including new one hour Wash & Dry programme to wash and dry a daily load in one hour. Programmes include: Daily 60; Eco 50; Express; Glass; Intensive 65; Overnight; Pre Wash; Sensor 40-70; Steam and convenient start delay up to 24 hours
* Autoclean self-cleaning filter system for ease of maintenance and superb cleaning every time
* Easy operation with integrated display on internal frame of appliance
* Water consumption on Eco 50 programme of 10 litres
* Whisper quiet with a noise level of 44 dB(A)
* Dimensions: H x W x D: 820 x 597 x 555 mm
7th November 2014
---