Speaking as someone who only worked out last night that my boiler thermostat is probably in Fahrenheit rather than Centigrade (no wonder my house always felt so cold unless I made the conscious decision to subject myself to ridiculously high heating bills that never seemed to arrive!), I am clearly mindful of the welcome difference that can be made to one's bills by setting the thermostat a couple of degrees lower than normal and how little difference is made to the temperature by upping the thermostat a few degrees (well – in my case anyway, when it comes to 'upping'!).
Although it's not KBB specific as such, I felt that – with the temperatures having dropped so much over the past couple of days and with the threat of worse to come – an item outlining the difference in costs was worth including in today's issue. As it includes a degree by degree table of potential annual heating costs, it offers a more graphic picture of the results of any decisions made.
It's not just money though, is it? It's all about the environment too and I'm proud to be part of an industry that's working so hard to embrace sustainability and provide us with appliances and bathroom equipment that use as little energy and water as possible without us being able to tell the difference when it comes to results or experience.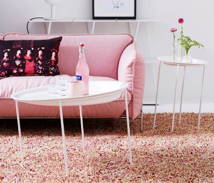 And while I'm on subjects that aren't quite KBB specific, I had to chuckle at the image of these highly unusual tables made from Hi-Macs material. They're called 'Dizzy' and I can imagine them bamboozling someone coming across them for the first time, having perhaps had a drink or two more than they should. Of course Hi-Macs can be used in kitchens in a myriad of ways but I have to say that much as I love these tables, I'd question this type of treatment of Hi-Macs throughout the entire kitchen space. It would quite put me off my breakfast…

Yours,