OK so once again we haven't had any snow to speak of in Epsom but the sun is shining and I'm feeling cheered by that and of course it's Friday, so to get the weekend off to a good start I'm going share with you the opportunity of making over this rather 'in your face' bathroom!
You know what it's like when you check into a hotel for the first time… Is the bed going to be a decent size and will it have a cosy duvet, will the WiFi be working properly, is the lighting sufficiently bright to be able to see what you're doing and will the hairdryer lead stretch from the socket to somewhere near the mirror so you can actually see while you style your hair … but most importantly – what's the bathroom like?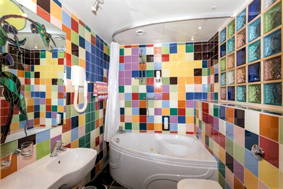 Well imagine peering around the bathroom door and seeing this! All thoughts of whether it's been properly cleaned or not will be banished at the sight. And just imagine having to shower in there after a heavy night out!
What were they thinking of when they put this lot together!
This bathroom is just a small part of the 14 bedroomed Hotel Continental in Harwich, Essex which is being offered as the prize in a draw. Tickets cost £1000 each and the owners are hoping that the draw will take place 100 days from the start date on 1st May 2015.
If you have £1,000 to spare, it's almost worth buying a ticket, just for the chance of making over that bathroom if you happen to win…
To enter the draw, you need to visit www.winahotel.co.uk – and if, like me, you want to see whether all the bathrooms are like the one in the picture, visit www.hotelcontinentalharwich.co.uk

Yours,