KBzine: the original kitchen and bathroom industry e-news - since 2002
30th March 2020
We strongly recommend viewing KBzine full size in your web browser. Click our masthead above to visit our website version.
---
The European Water Label: a force for good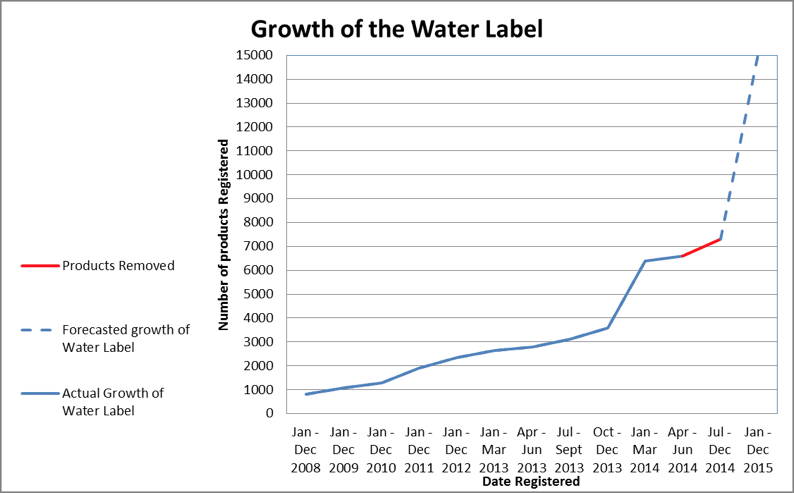 Designed to help all of us easily identify water-saving products, which, when installed and used correctly, use less water than other products, the European Water Label is having an enormous effect.
Using the online database of 8,000-plus products from almost 80 brands, consumers and industry professionals alike can choose bathroom and kitchen products to suit their lifestyle and budget - and - since most are looking to reduce their utility bills, the most water-efficient products will be chosen first, thus causing both water and energy consumption to tumble. Here, Yvonne Orgill, director, European Water Label, explains the development of this crucial scheme and how it to get the most from it...
"The continuity of our natural resources is one of the most important issues facing our future generations. With that in mind, the European Water Labelling Scheme was created and is now firmly established across Europe and beyond.
The scheme's online database and accompanying product label shows the water consumption characteristics of bathroom and kitchen products using a simple-to-understand approach so that consumers and industry professionals alike can choose products to suit their lifestyle and budgets in an informed and educated way.
The labelling scheme is proving to be a 'force for good.'
What was once just a simple idea, and a stimulating discussion amongst a group of like-minded individuals, is now a major influencer for all sectors in the bathroom and kitchen supply chain.
The European Water Labelling Scheme was created from the ground up in 2006 by members of the Bathroom Manufacturers Association.
Since then it has been cautiously and painstakingly developed over many years, during which time successful partnerships with leading European organisations, manufacturers and trade bodies were established. These include CEIR (the European Association for the Taps & Valves Industry) and FECS (Federation Europeenne des Fabricants de Ceramiques Sanitaires, together with FSKI (Fachverband Sanitar-Keramische Industrie e.V - an association representing the interests of German ceramic sanitaryware manufacturers) and ANFACESA (the Spanish Association of Ceramic Sanitary Ware Manufacturers).
The result of this engagement has resulted in a scheme which fully embodies the nuances of individual participating countries. It is now blossomed into a standalone, not-for-profit organisation encompassing 76 major bathroom brands and supporting a database of 7,350 registered products across 34 nation states.
It has become authoritative and well respected and, being entirely voluntary, it is inexpensive to operate, simple to administer, flexible and fast paced.
Recent additions to the information which the label provides have been the incorporation of energy consumption data and ceramic sanitaryware standards.
Although water is the main metric of the scheme it is recognised that energy saving is also key to raising awareness amongst consumers of the importance of using water more wisely. Since a quarter of household energy bills are associated with hot water it is logical to include energy aspects to the label for taps and showers.
A specific label for these products, which includes the additional energy icon, has been designed and is now available.
During 2015, further development of these technical icons, with robust test criteria, will allow manufacturers to customise the label to suit their particular product range.
Additionally, and specifically targeted at construction professionals, new criteria has been included to embrace Sanitaryware Class 1 and 2 and the distinctions of EN 997 and EN 14055.
The uptake of the labelling scheme is gathering pace with major manufacturers, retailers, and the media registering their companies and products on the web-enabled database. The brands which now support the scheme currently represent over 48% of the European bathroom market.
To enhance its visibility new marketing and promotional material has been launched. This is being used by companies who have registered either as a brand, scheme supporter, or stockist.
The design elements of the new materials have been developed and tested using feedback from consumers and plumbers. They are intended to support exiting materials, add to their flexibility and produce a consistent message.
The materials fully explain the European Water Label using three different styles, each created to provide a flexible suite of graphics and support information that can be used 'as is' or adapted to suit a corporate style - www.europeanwaterlabel.eu
New training materials have also been created, including guides for retailers' and merchants' staff, manufacturers, trade associations and other organisations. Two PowerPoint presentations help sales and manufacturing teams understand the benefits of the European Water Label. They can be used by registered companies with their own logo - www.europeanwaterlabel.eu
A short explanatory video can also be seen on the scheme's website.
The European Water Label is used increasingly by bathroom and kitchen retailers who have acknowledged its power as a sales and marketing tool. Consumers wanting to cut back on energy and water consumption costs are now asking for labelled products, and caring retailers are giving them the advice and choice which the scheme provides. Retailers are displaying the European Water Label in their showrooms and have also taken advantage of a free listing, as stockists, available in the database.
The award winning European Water Label was developed steadily and prudently. Manufacturers and those in bathroom and kitchen distribution were consulted, ideas and views taken on board and consensus reached. The scheme is now, undeniably, the most important labelling scheme of its type and is proving to be a huge catalyst for change and a force for good.
The entirely voluntary and award winning European Water Label has been a huge catalyst for change and the results are showing in the stats."
T: 01782 631619
E: [email protected]
W: www.europeanwaterlabel.eu
13th February 2015
---