I've worked across many industries but the KBB industry is the first one that I've noticed, which is really into charity fundraising. I probably receive on average a press release each week about some initiative or other and I wish I could feature them all as I know from my own parachute jumps some years back that these fundraisers take a lot of organisation and often some persistent cajoling to get everyone involved!
Today is Comic Relief day and no doubt many KBzine readers will be doing their bit; either with work colleagues or friends and family. If that's you, I wish you lots of fun and hope that you reach your targets.
Louisa Bradshaw from Better Bathrooms tells me that she and her colleagues have been getting into the Red Nose Day spirit all day and that so far they have raised over £500. All the staff have been wearing red noses along with red clothes and have been making faces funny for money (as our picture shows)! In addition, they've held a special Red Nose Day Curry Competition, where staff brought in homemade curry and the best one won a paid day off work! "The best news was that everyone bought a bowl of curry for £1 at lunch time – yummy!" says Louisa.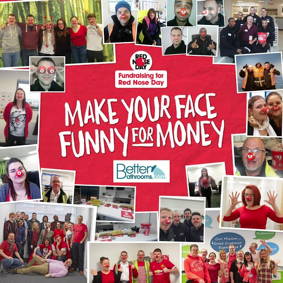 Wonder how their offices are going to smell on Monday…
John Austen and I have been envying those of you who were lucky enough to attend the ISH event in Cologne, from the cleaning exhibition we were covering at London's ExCel… I'm looking forward to receiving piles of press releases revealing what we missed in terms of launches.
My feet have just about recovered and I hope yours have too.
Yours,