KBzine: the original kitchen and bathroom industry e-news - since 2002
30th June 2020
We strongly recommend viewing KBzine full size in your web browser. Click our masthead above to visit our website version.
---
Infrarad - the smart way to heat it up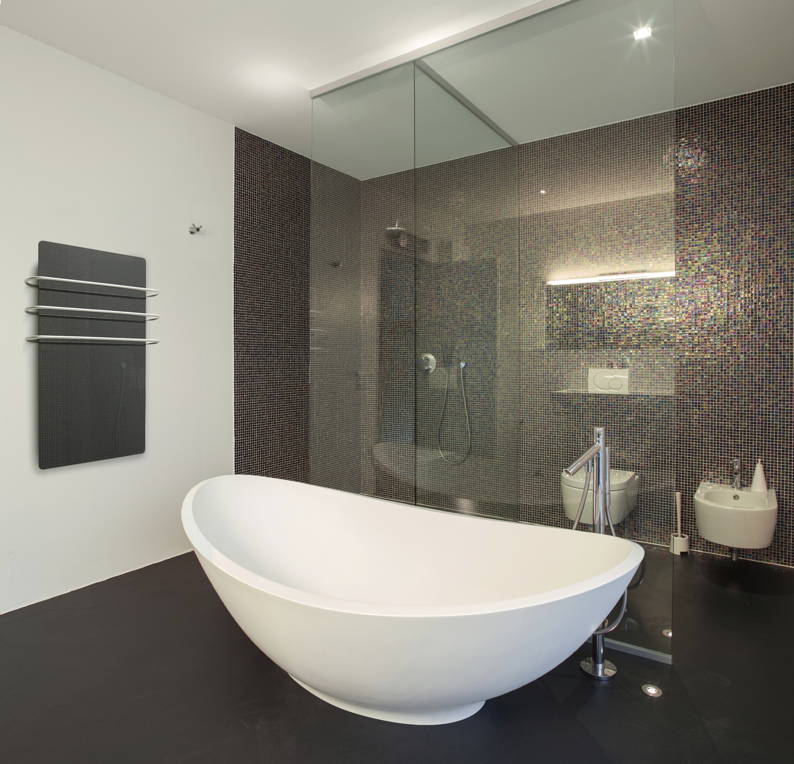 Working in a different way to other forms of heating, infrared heating potentially consumes half the energy required to run conventional radiators so can heat a commercial or residential property for less than the cost of older, inefficient gas and oil boilers. Infrared heating also substantially cuts electricity bills where it replaces an electric boiler, electric convector heaters, storage heaters or electric space heaters.
This may sound groundbreaking but infrared heat is nothing new. Infrared is electromagnetic energy with a wavelength longer than visible light and shorter than microwaves.
The existence of this completely harmless form of energy was first discovered in 1800 by the astronomer Sir Frederick William Herschel and we experience it every time the sun shines. Just as happens with the sun, infrared heating products use radiant heat where the energy is emitted in the form of infrared rays which heat only the solid objects they land on, including the occupants who will feel the heat almost immediately, with very little of the heat being lost.
The potential to use infrared heat in commercial situations is immense. Attractive heaters are available for installation in offices, hotels, churches, schools, gyms, beauty salons, warehouse units and factories. This form of heating is particularly useful in reception areas as it warms guests immediately. Also worth noting is the fact that it is a good form of heating for providing dry conditions, so is ideal where items such as classic cars are being stored.
Commercial infrared heating products can run on a standard 240v system and are available in outputs including 1000W, 1800W, 2400W and 3200W. Installation is generally easy with the lightweight radiators simply fitted on a wall or ceiling - at a height no lower than 2400mm - using universal brackets and then hardwiring the unit into a ring main. These units are supplied with a 25amp fully-programmable thermostat offering settings between 5°c and 35°c while a remote control provides for ease of operation. An added advantage is that the units can be used in multiple applications and run off one control if required.
This means that infrared radiators are highly efficient and provide warmth as soon as they are turned on with the air temperature subsequently rising at a similar rate to traditional forms of heating. Just as with a normal central heating system, once the air temperature has risen the room stays warm until the thermostat again calls for heat to maintain the temperature. Infrared heating is particularly useful at solving the problem of staying warm where insulation is poor, the ceilings are high or there are high rates of air changes.
Importantly, this means that, whereas a traditional method of calculating a standard room's requirement for heat is based on 50W m3, with infrared radiators only 25W m3 is required. For example, if a room needs 2KW of standard gas or electric convector radiators, with infrared it will only need a 1KW radiator.
Another factor that favours infrared is that the capital cost of infrared heating is generally lower than traditional radiators and boilers. Installation costs are no different to other forms of heating systems and, as the process is often easier and considerably less disruptive, can be considerably lower. Another important consideration are servicing requirements, infrared radiators require no maintenance.
Infrared heating is often chosen for health reasons. Unlike conventional radiators, which actually radiate very little heat and are effectively convertor heaters, infrared heating creates no warm air currents so there are no draughts that result in the movement of dirt, dust mites and bacteria in the indoor environment. Neither is there the problem of warm air rising to the ceiling and leaving the lower parts of the room cool, as is the case with conventional radiators. Just as when standing in the sun, the heat is pleasant and the air stays dry but warm so the internal environment is not stuffy. Condensation is reduced because, instead of hot air and cold surfaces, infrared heating produces warm air and warm surfaces.
Infrared products are now widely available across the UK at affordable prices and, unsurprisingly, they are proving popular with some having been shortlisted for industry and consumer awards. As well as offering highly efficient space heating, the products are good looking with a wide variety of models available to suit most domestic situations from living areas, bedrooms and reception rooms to kitchens and bathrooms.
Hard-wired wall- or ceiling-mounted radiators offer output ratings of 500W, 800W and 1kW while being designed for a surface temperature of below 85 deg C. Together with these more conventional looking flat versions, one portable model has a convex curved surface and is available with power outputs of either 250W or 350W. The expected minimum working life of all these radiators is 100,000 hours.
Infrared radiator products are both practical and stylish with plain gloss white and plain gloss black models widely available as well as mirrored, granite and glass versions. Such materials have the advantage of allowing the heating panel to be disguised to some degree within the decor of the internal environment. Particularly attractive are the black or white glass towel-warmers designed for wall-mounting in all bathrooms irrespective of the heating system. Rated at 500W and 700w, these boast built-in controls for independent function, are fitted with an LCD display and timer and have five power settings so the power can be reduced in steps of 20%.
Stainless steel towel rails are an option with these models which are made of silk screen toughened safety glass. As would be expected, they are splash-resistant to IP24 and are fitted with a thermal cutout.
While infrared heating is unlikely ever to be cheaper than high efficiency gas boilers it does offer an incredibly efficient use of electricity so is ideal where gas or wet systems are not practical and is a highly realistic off grid solution where the only alternative may be panel or storage heaters, oil or LPG. This is particularly true where photovoltaic (PV) panels are installed, especially as the possibilities of battery storage emerge over the coming years.
T: 01525 851122
W: www.infrarad-heating.com
20th March 2015
---