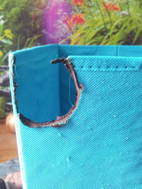 The good news is that my house didn't burn down yesterday; the fact that it could so easily have done means that I'm determined to draw attention to the need for us all to do the 'Tick Tock Test' this weekend…
My Facebook status probably says it best: "Just had a lucky escape... although it's only March & a rainy day, sunshine had reached my mirror - some six feet away from the window - & the beam had set light to this canvas box. Lucky Melissa Hobbs & I were home to investigate & prevent house from burning down. Watch where you put your mirrors peeps & don't be fooled by the March sun!"
Comments from friends have taught me that it was the magnifying side of the mirror, facing the sun, which put us in danger. I'm well aware from writing about them that bathroom mirrors and cabinets often have magnifying sides so do please be careful about how you angle them when you leave the room – even if it doesn't appear to be that sunny.
And although my smoke alarm is working fine, it hadn't gone off before I discovered the smouldering canvas box. Mel puts this down to the strong smell of aftershave we were discussing in the downstairs hallway which kept us in that part of the house and thus closer to the source of the problem and more able to discover it before it could really do any damage. She's convinced it was her father, who sadly left these parts (or so we had thought!) some eight years ago, come back to warn us. Whatever it was that tipped us off that something odd was happening, we're grateful that it's just a canvas box that was burnt and that John Austen's not writing this leader in my place…
…Which brings me back to the 'Tick Tock Test'. If you live in the UK you will be putting your clocks forward on Saturday night. As you're doing it, make a point of testing all your smoke alarms and if they're not working properly, resolve to replace them or fit new batteries, first thing Sunday. And while you're at it, check where you and your family are keeping your mirrors.
Yours,