According to the Office for National Statistics report released this morning, there are 31.05 million people in work - 248,000 more than for September to November 2014 and 557,000 more than for this time last year. These figures support the findings of the Screwfix's Trade Pulse report, (see news below) which reports that 97% of UK tradespeople taking part in the survey say they are in work and reveals that nearly one in six are so busy they have more work than they can handle.
With the General Election just a couple of weeks away, I'm wondering how things will pan out over the coming year and keeping my fingers crossed that whoever's elected doesn't put the kybosh on everything!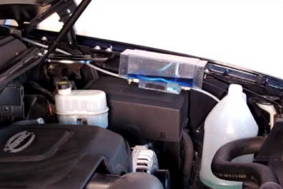 As you'll know if you're a regular reader of my leaders, I'm really big on environmental issues and proud to be involved in an industry that's working so hard to reduce the volume of water we use as we go about our lives. I thought you might be interested then in news of some new technology that's not a kbb product as such but one that could be used to reduce water consumption in your company vehicles as well as your own car.
WiperFill is an inline, under-bonnet system that converts rainwater (or other liquids near the windscreen area) into wiper fluid or antifreeze. It collects water at the base of the windscreen and directs it into its multi-chamber mixing device to produce clean, spot-free cleaning and antifreeze fluid, using wiper fluid and/or antifreeze concentrates to achieve the right saturation level. No – I'm not on a commission or anything, but was inspired by the thought of how much clean tap water could be saved if we all fitted one of these in the vehicles for which we're responsible! For details, visit www.wiperfill.com
Yours,