Remember when, a few years back, Electrolux produced a limited collection of vacuum cleaners called Vacs from the Sea, made from plastic debris collected from the ocean?
Well it may just be that before long, other manufacturers will be supplying products mainly comprising ocean-salvaged plastics, as theyíre going to be collected via a passive ocean cleaning system that will be the longest floating structure in history.
Boyan Slat, 20-year old founder and CEO of The Ocean Cleanup, announced that a new system is to be deployed in 2016 - probably off the coast of Tsushima, an island between Japan and South-Korea. It will span 2,000 metres and will be operational for at least two years, catching plastic pollution before it reaches the shore.
Within five years, after a series of deployments of increasing scale, The Ocean Cleanup plans to deploy a 100Km-long system to clean up about half the Great Pacific Garbage Patch, between Hawaii and California.
"Taking care of the world's ocean garbage problem is one of the largest environmental challenges mankind faces today," said Boyan. "Not only will this first cleanup contribute to cleaner waters and coasts but it is a step towards our goal of cleaning up the Great Pacific Garbage Patch. This deployment will enable us to study the system's efficiency and durability over time."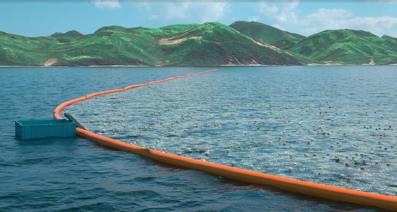 The Ocean Cleanup will employ long floating barriers, using the natural movement of the ocean currents to passively concentrate the plastic itself. Virtually all of the water will flow underneath these booms, taking away all (neutrally buoyant) sea life, while the lighter-than-water plastic collects in front of the barrier.
The scalable array of floating barriers, attached to the seabed, is designed for large-magnitude deployment, covering millions of square kilometres without moving a centimetre.
Boyan's team's research indicates that a single 100Km†cleanup array, deployed for 10†years, will passively remove 42%†of the great pacific garbage patch. "We conservatively estimate this to be 70,320,000Kg," he said.
Plenty for each of us perhaps to one day own a product manufactured from waste plastics salvaged from the sea.
Yours,