Have you ever got into one of those debates that start with the question: "If you could be a Superhero, what special powers would you have?"
While I love what I do for a living, working across two industries and looking after a family means that I end up missing out on a fair few product launches, which is frustrating. This week has been no exception with three important launches that I would have gone along to, had I been able to realise my Superhero dream of duplicating (or even triplicating) myself!

The team behind the Whirlpool laundry range launch invited me to 'London's most enigmatic laundromat' where cocktails were mixed in the washing machines for guests to enjoy while having hands-on experience of the new equipment, while London's Saatchi Gallery was the venue for the launch of the Hoover Wizard range of Wi-Fi appliances, offering guests the chance to browse around the gallery once the official proceedings had finished. Today, the team representing Haier is using London's cookery workshop L'Atelier des Chefs to launch Haier's 70 Series fridge-freezers. I'm told journalists will be split into teams and with the help of a top chef and using some of the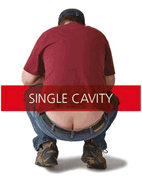 ingredients from the fridge-freezer, create a dish that will be served to the opposing team for lunch. What fun!
Also bringing the fun element into a serious launch is the team behind Amica, who've used the 'builder's bottom' – literally – to draw

attention to the fact that Amica has joined the ranks of the double oven manufacturers. And as someone who sees my fair share of builders' bottoms, I couldn't resist sharing this one with you…
Apparently we in the UK are unique in wanting to buy double ovens, so whoever started that particular bandwagon has to be congratulated for a well-run campaign too!
Both John Austen and I have worked in public relations and advertising and know it's not the easiest job in the world… coming up with new ideas that will inspire people can be tough and so is the art of getting journalists out of their offices, so hearty congratulations from us to all the lovely PR and marketing people covering our industry; the invisible Superheroes who work so hard to get their clients the attention they demand!
Yours,