It's that time of year again when many of us are thinking about winding down, ready for the Christmas holidays - and if you're anything like me, you're looking forward to having a much needed break.
I daresay that all the KBB retailers generally feel differently at this time of year though, what with the pre-Christmas and January sales to get through. And of course with VAT going up at the start of 2011, the frantic invasion by customers keen to bag a bargain is likely to be a little more tense than normal.
So if you're going to be spending a chunk of the festive season being harassed by agitated shoppers, good luck!
My good wishes also go out to those who have spent the last few weeks struggling to get to work to fulfil orders promised by Christmas, as well as those tasked with making deliveries. Pretty as it might be when it first arrives, the snow and ice don't help matters, do they? Of course in some parts of Europe, there has been heavy flooding too, which will only have added to the problems for those having to drive enormous delivery lorries across several regions.
And while people are happy to complain when things go wrong, they rarely seem to notice the efforts that have been made when they go right, do they? Maintaining delivery schedules when conditions are as bad as they are in some parts of Europe right now must be nigh on impossible!
One US tradesman has found a way of bringing a smile to people's faces - and no doubt by attracting attention will have won extra business as a result. I think it's a clever idea but John wonders whether it bothers him, having to wear a blue shirt every day...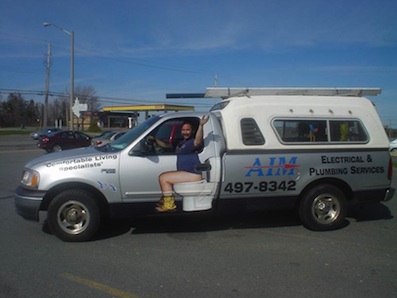 This is our last issue of KBZine prior to Christmas. Our next broadcast will be on 7th January, although any urgent breaking news will appear on the website as and when it happens.
Merry Christmas and let's all hope for a happy, healthy and prosperous 2011.
Yours,


Jan Hobbs