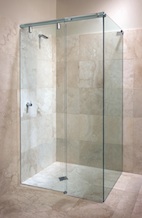 C R Laurence offers a wide range of shower door hardware and accessories, including the Hydroslide sliding shower door kits. These are available in 90 degree wall-to-glass installations and 180 degree wall-to-wall installations.
The Hydroslide system accommodates the option of floor to near ceiling glass panels with a sliding door. Bottom fixed glass attachments and handles can be ordered separately.
Also available from C.R. Laurence is an extensive range of frameless shower door hardware, including; hinges, handles, door knobs, channels, clamps, plus much more.
C R Laurence of Europe
Freephone: 00800 0421 6144
Freefax: 00800 0262 3299