---
International News
Products
Karonia - keeping the customers satisfied


When we arrived at the Karonia stand, there was a huge group of visitors, which I soon discovered included a good number of kitchen fitters keen to learn about the benefits of the company's easy-to-fit worksurfaces and the famed 'no join' finish, and see the specially designed shaping tools in action.
Many were gathered around the section of the stand dedicated to Karonia's contracts/large projects division, which featured examples of how products can be used for student accommodation, city apartments, housing developments, hotels and schools.
more
---
Abode makes a splash with raft of new kitchen and bathroom innovations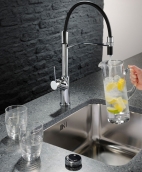 With significant investment in research and development across its business, Abode is launching over 90 new products in 2018. From hot water taps and sinks, to kitchen taps and bathroom brassware, the new additions combine product innovation, style and function - as visitors to Abode's understandably very busy stand, will attest.
In the kitchen sink section visitors saw a major relaunch of the Abode sinks collection with a significant number of new ranges on show for the very first time. The company's designers and technical teams have been working hard capturing new ideas and shapes in ceramic, stainless steel and composite materials, and these were clearly proving popular with visitors.
more
---
'The Rock' by Colin Wong: demonstrating permanence and impermanence


A groundbreaking new concept from award winning kitchen designer Colin Wong, which explores the potential of permanence and impermanence in kitchen furniture and materials, involved Corian, Neolith, Formica and Cosentino fabricating, delivering and installing each in a series of 'Rocks'.
These attracted a lot of interest, as they were so different from what one would normally expect to see at the Show.
more
---


It was hard to get a picture of the Blanco stand, it was so crowded (we had to come back towards the end of the day when the halls had cleared a bit!) But then of course there was a lot to see.
We loved this display of the new pendant hoods, set over the new tap and sink collection. It looked so stylish - but which to choose? It was certainly proving a dilemma for the crowds that were there the first time we visited.
more
---
InSinkErator: exciting new launches


InSinkErator showcased a number of exciting new launches, including the 4N1 Touch instant filtered/non-filtered, steaming hot/cold water tap (more later, if I've confused you!), a new Food Waste Disposer that's being added to the Showroom Collection and a new Satin Black Finish steaming hot water tap.
To filter, or not to filter?
The 4N1 Touch, InSinkErator's most technologically advanced taps to date, is a new collection of taps that offer instant, filtered steaming hot water and instant filtered cold water, as well as regular hot and cold water, from the same combined fixture. The range forms part of the InSinkErator Showroom Collection.
more
---


The team on the Busboard stand was exceptionally busy and we really liked the display, which showcased the company's Nuance bathroom panels, the new Omega and Options worksurface collections and some exciting new solid surface developments.
Nuance panels boast a core that's 100% impervious to water so there's never any danger of warping or leaking, which means they're perfect for walls around baths, basins, inside shower enclosures or to create wet rooms. And as there's no need for trims, they present a sleek, seam-free look that's especially effective in smaller bathrooms.
T: 01933 232 242
W: www.bushboard.co.uk
---
Delivering excellence: J P Distribution


J P Distribution, which delivers products from many well-known brands to more than 2,500 retailers throughout England, Wales and Scotland, said its stand had attracted a lot of interest and that the team had been busy throughout the show.
Founded in 1980, the company puts much of its success down to its principle of 'on time in full deliveries' (it boasts an average accuracy of 99.6%) - plus the fact that over the years, it has added more and more manufacturers' products to its portfolio, meaning it now offers what it believes is one of the most comprehensive 'one stop shops' available.
more
---
Laufen showcases latest bathroom collections, including premium showertoilet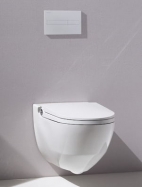 Swiss bathroom specialist Laufen showcased its latest bathroom collections alongside Roca, in the special blacked-out suite that we've come to expect from the manufacturer.
more
---
Whitebirk's luxury fireclay sinks: handmade in Britain since the 1800s


We were stopped in our tracks by a display of Butler-style and circular sinks in a variety of unusual colours and as we tried to decide whether we preferred pale pink or baby blue, Whitebirk Sink Co's Peter McVinnie, Steve Allen and Jon Wilson told us they were pleased they had displayed the sinks as many Show visitors who hadn't planned to visit the stand, had stopped because of the sinks, to find out more.
more
---
Dallmer showcase stylish new drainage solutions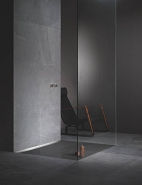 Hoping to repeat the success of its previous appearance at the venue, Dallmer showcased its industry-leading floor drain solutions.
The commercial and top end residential manufacturer's stand will provide specifiers and installers - as well as other customers, with the chance to view its renowned DallFlex and recently revamped CeraLine series of products.
more
---