KBzine: the original kitchen and bathroom industry e-news - since 2002
15th June 2018
We strongly recommend viewing KBzine full size in your web browser. Click our masthead above to visit our website version.
---
Ecobuild
by Chervana Hobbs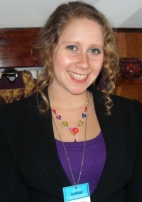 'Ecobuild is the world's biggest event for sustainable design, construction and the built environment and the UK's largest construction event of any kind', says the blurb, but I really had no idea how big it would be, how many people would attend and how many products were going to be on show. I didn't quite know where to start.
As the 'megawatts to negawatts' conference session kicked off in the morning, we were told that 50,000 people were at Ecobuild. The place was inundated. As I walked around the exhibition, I found myself thinking that I really had no idea how many innovative concepts there were to make our society more environmentally friendly and to help us change our ways, so we can become more sustainable inhabitants of Planet Earth.
Although I found the day very tiring, (and I really don't know how the people on the stands managed three days in a row with continual smiles on their faces) it was really worth it to discover that there are people out there - the exhibitors and attendees - that are really doing something to make this world a better place.
For me, I really love the little things about the world - but these are things that could change if we carry on the way we are going. I would even miss the rain if it didn't fall in England as much as it used to. My view of society before I attended Ecobuild was that most people don't care much about the environment - they can't even be bothered to recycle or walk to the shops around the corner just because they have a car; they are happy to sacrifice the planet.
However, Ecobuild really opened my eyes to how much is actually being done, by a small - but significant group of people who are trying to get the message out - to DO something and DO IT NOW.
When I sat down for lunch, I spoke to a couple of workers who felt that items are often marked as 'Eco' because the manufacturers feel that if they were branded as such - more people will buy their products. But the message I took away from Ecobuild was that 'Eco' isn't just a brand and a way to sell products. It's a legitimate, 'I do care about the environment' mind-set.
I would like to say my biggest thanks to everyone who I spoke on Wednesday for making me feel welcome - and an even bigger thanks to the people that want to make a difference to the world. A group of people with a mind-set that WANT to make things happen, designing new ways to save water, use less energy and finding alternative materials which are environmentally-friendly for construction work. These people are genuinely striving to be the sustainable people of the future... A group of like-minded Eco-people.
4th March 2011
---